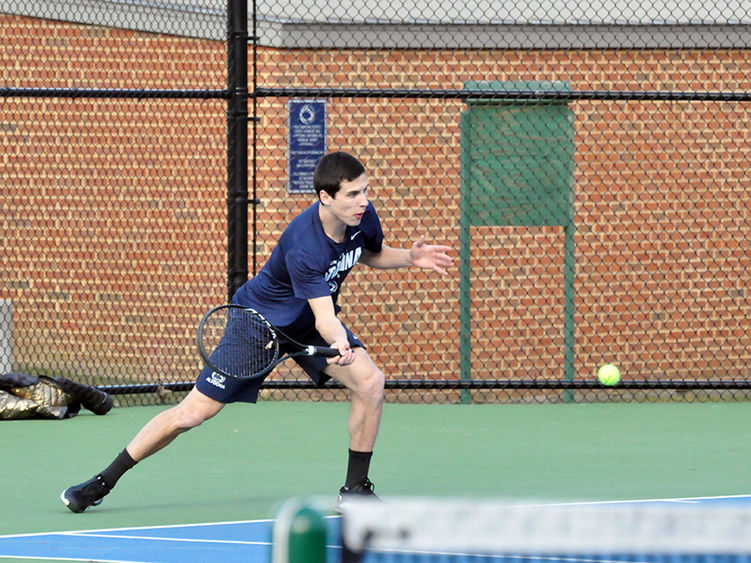 NORTH BOSTON, N.Y. — Penn State Altoona men's tennis student-athlete Casey Hess of Annville was chosen as the Allegheny Mountain Collegiate Conference's Player of the Week on Monday, April 10.
Hess went 2-0 in singles matches for the Lions last week, as his team faced non-conference opponents Lycoming College and Susquehanna University.
In Penn State Altoona's 7-2 win at Lycoming on Monday evening, Hess earned a 6-3, 6-0 victory in No. 2 singles. In the Lions' 8-1 loss at home to Susquehanna on Saturday afternoon, he provided his team's lone point of the day with a 6-2, 3-6, 12-10 triumph in the No. 1 singles match.
Hess currently leads Penn State Altoona in overall singles wins this year, holding a 9-2 record that includes a 2-2 mark against Allegheny Mountain Collegiate Conference opponents. He is 2-0 in No. 1 singles matches and 7-2 in No. 2 singles matches. This is Hess' second AMCC Player of the Week award this season.
Earlier this season, Hess became the Penn State Altoona men's tennis program's all-time leader in singles wins, as his current career total of 21 singles victories is the most by any player in team history.
Penn State Altoona men's tennis is 9-3 overall this season, including 3-2 in the AMCC. The Lions' next match is at home this Wednesday, April 12, when the team hosts AMCC foe Pitt-Greensburg.