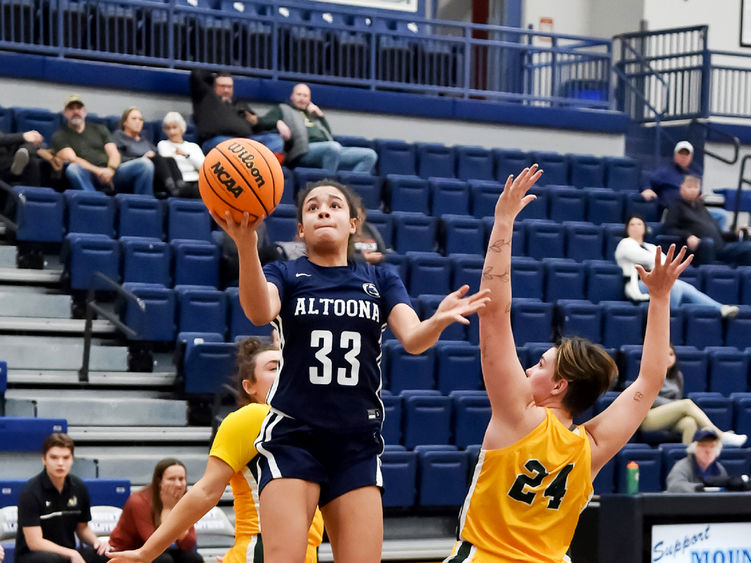 NORTH BOSTON, N.Y. — Penn State Altoona women's basketball's forward Avana Sayles of Venetia, Pa., was named the Allegheny Mountain Collegiate Conference's Player of the Week on Monday, Nov. 21.
In three games for the Lions last week, Sayles recorded her first two collegiate double-doubles while helping her team achieve its first victory of the season.
In a loss on the road to Division II opponent Lock Haven University, Sayles scored 14 points and added five rebounds. In the first game of the Mountain Valley Tip-Off Classic against the Rose-Hulman Institute of Technology on Saturday night at home, she notched her first double-double with 19 points and 10 rebounds to go along with three steals. Sayles helped Penn State Altoona win its first game of the year during day two of the Classic on Sunday against Keuka College, putting up 23 points and 12 rebounds while recording three steals.
On the week, Sayles averaged 18.7 points per game, 9.0 rebounds per game, and 2.0 steals per game. She was also selected to the All-Tournament team for the Mountain Valley Tip-Off Classic.
The Penn State Altoona women's basketball team's next game is at home on Wednesday, Nov. 30, when the Lions will host non-conference opponent Penn College at 6 p.m.