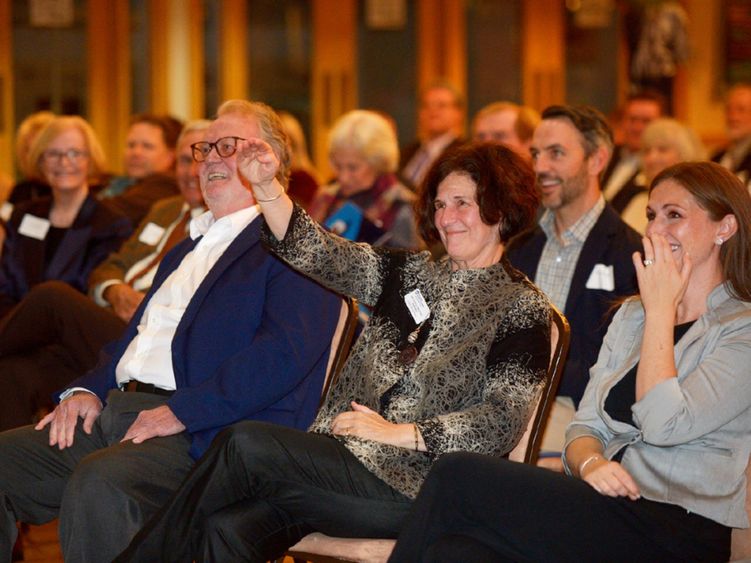 ALTOONA, Pa. — Friends, family, and community members gathered on Wednesday, Oct. 19, for a private event celebrating the legacy of Penn State Altoona Chancellor and Dean Lori J. Bechtel-Wherry, who is retiring from the college.
The event was hosted by the Devorris, Hite and Sheetz families with speakers including local businessmen Phil Devorris and Lee Hite, Bechtel-Wherry's husband Tim Wherry, her daughter Andrea Mozzochi, Altoona mayor Matt Pacifico and Roz Sky. During his speech, Pacifico presented Bechtel-Wherry with a golden railroad spike key to the city. The Nittany Lion was also in attendance as a special guest.
"There truly are no words to express the depth of gratitude that we have for Lori for all that she has done for Penn State Altoona and our community. Her legacy will forever be a reminder of dedication, hard work and generosity for all of us," said Devorris, who emceed the event.
For more than 35 years, Bechtel-Wherry has been a proud member of the Penn State Altoona family. She is a professor of biobehavioral health and women's, gender and sexuality studies. At age 39 she became the first female full professor at Penn State Altoona. In 1997, when Penn State Altoona became a stand-alone college campus, she was the inaugural division head for the Division of Education, Human Development, and Social Sciences. In 2005, Bechtel-Wherry was appointed as Penn State Altoona's chancellor and dean, the first woman to hold such a position in the college's history.
During her time as chancellor and dean, Bechtel-Wherry facilitated the acquisition of several buildings in downtown Altoona to create the Penn State Altoona downtown campus that includes Aaron Building, Devorris Downtown Center, Kazmaier Family Building, Penn Building and the Sheetz Center for Entrepreneurial Excellence, home to the Altoona LaunchBox supported by the Hite family. She also worked with the City of Altoona to develop a bike trail between the Ivyside and downtown campuses.
Bechtel-Wherry oversaw major renovations to numerous buildings on the Ivyside campus during her 17-year tenure as chancellor and dean including the Adler Athletic Complex, Misciagna Family Center for Performing Arts, Port Sky Café, Eiche Library and Slep Student Center. She also facilitated the purchase of Seminar Forest, a 40-acre tract of land across from the Ivyside campus, and the subsequent construction of the replica of the Thoreau Cabin.
Bechtel-Wherry's leadership and influence extend beyond the University as an active member of the Blair County community through her service on countless boards. Throughout the years, Bechtel-Wherry and her husband, Tim Wherry, have philanthropically supported a wide variety of scholarships, capital projects, special academic initiatives and community outreach programs at Penn State Altoona including the creation of their own scholarship, the Lori J. Bechtel-Wherry and Timothy Lee Wherry Open Doors Scholarship at Penn State Altoona, in 2018. In 2008 the couple celebrated their marriage through a joint gift to name the Timothy L. Wherry and Lori J. Bechtel-Wherry Study in the Robert E. Eiche Library in addition to establishing an endowed enhancement fund for the library.
The October celebration in Bechtel-Wherry's honor raised over $1.3 million in gifts made to the Lori J. Bechtel-Wherry and Timothy Lee Wherry Open Doors Scholarship and other areas at Penn State Altoona.
"I thank the Devorris, Hite, and Sheetz families for sponsoring my retirement celebration," said Bechtel-Wherry. "I appreciate the beneficence of all our donors who support our students and college, and I am thankful for those who made gifts in recognition of my years of service at Penn State Altoona. I am overwhelmed by their generosity, and I am thankful that these gifts will support many students who otherwise would not be able to pursue their college degree."
Those who would like to make a gift to support Penn State Altoona on behalf of Bechtel-Wherry, visit the Giving to Penn State site.