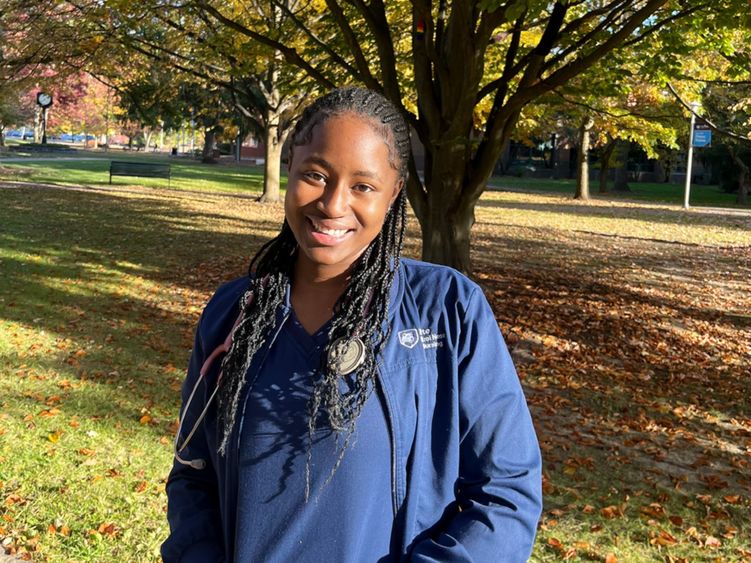 ALTOONA, Pa. — Penn State Altoona student Makaylah Bangura was recently awarded the prestigious Nurse Corps Scholarship and will join the Scholarship Program Class of 2022-23, a competitive program at the national scale sponsored by the Bureau of Health Workforce, U.S. Department of Health and Human Services.
Bangura is a nursing major and a member of Penn State Altoona's Integrated Social Science Research Lab.
The scholarship will cover Bangura's tuition and other fees, books, supplies, instruments, and uniforms until she graduates from Penn State Altoona's Nursing program. It also comes with a monthly stipend to offset everyday living costs. In exchange, Bangura has agreed to a three-year, post-graduation service commitment at a healthcare facility that has a critical shortage of nurses.
"I was already planning to serve in a critical shortage area after graduating," says Bangura. "The Nurse Corps Scholarship was just so obviously in line with my values and where I want to go with my life. I'm grateful and proud to be a part of it."
Dr. Nicholas Rowland, professor of sociology, and Dr. Nathan E. Kruis, assistant professor of criminal justice, co-run the ISSRL. "Seeing a diligent, hardworking student like Bangura be so successful and be rewarded in a competitive environment is a truly amazing thing to watch," states Rowland. "As faculty members, it is just so reassuring to know that Bangura's path is set after her time at Penn State Altoona."