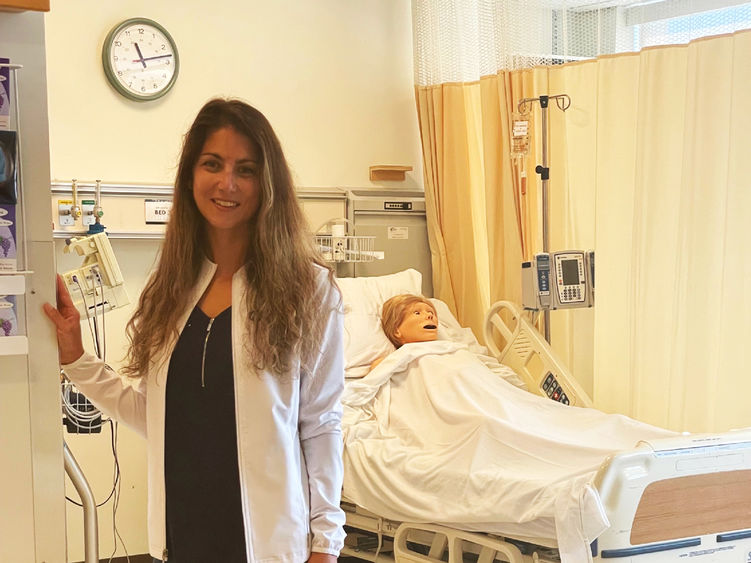 ALTOONA, Pa. — Elizabeth Gatchell, assistant teaching professor of nursing at Penn State Altoona, has been appointed the simulation lab coordinator for Penn State Altoona's Nursing program. Gatchell takes over for Sharon Lacue, who served as coordinator from the lab's inception in 2010 until her retirement earlier this year.
Gatchell earned her DNP from the University of Pittsburgh and has been teaching at Penn State Altoona since 2015. Her research interests include communication in healthcare and faculty mentoring. Her colleagues believe that the value she places on mentoring and her commitment to a supportive learning environment made her the ideal candidate for the position.
"I am thrilled to take on the challenge of being the simulation lab coordinator," said Gatchell. "I look forward to working with our excellent faculty and staff to continue improving our students' lab experience, making it a place for learning, fun and wellness. Additionally, I will work with administration, IT, and the Ross and Carol Nese College of Nursing to update our technology, giving students access to state-of-the-art equipment."
Penn State Altoona's Nursing Simulation Lab offers students in both the general and the accelerated Second Degree BSN (bachelor of science in nursing) programs an immersive learning experience with both high- and low-fidelity mannequins. The hands-on training that nursing students receive in the lab is essential for mastery of the skills needed to provide the highest quality of patient care in medical, surgical, intensive care, long-term care, community, home, pediatric and maternity settings.
The simulation lab is located in the Aaron Building on Penn State Altoona's Downtown Campus. In addition to the simulation lab, the downtown campus is home to a state-of-the-art communications suite and offices for the college's business, accounting, security and risk analysis, cybersecurity analytics and operations, information technology, rail transportation engineering, and entrepreneurship programs.