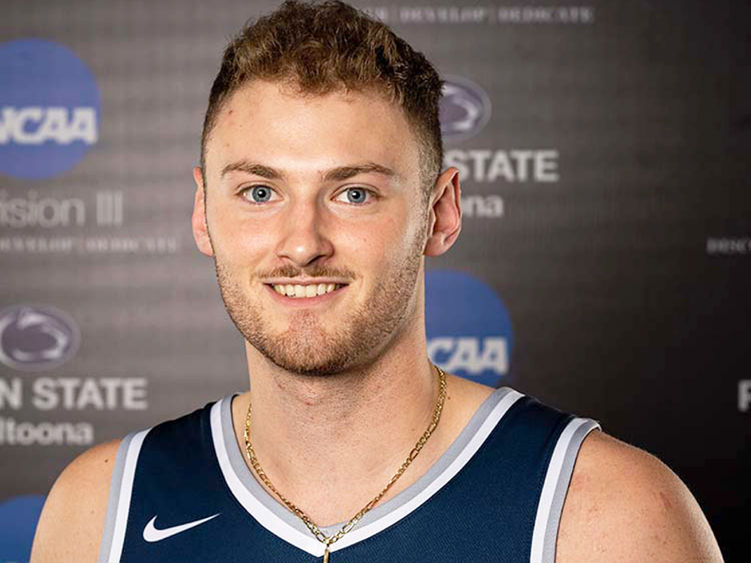 KANSAS CITY, Mo. — On July 19 the National Association of Basketball Coaches (NABC) announced its annual academic awards, including its Honors Court, which recognizes outstanding achievement in the classroom by collegiate men's basketball student-athletes.
Penn State Altoona's Dominic Frucella (Duncansville, Pennsylvania/Hollidaysburg) was named to the 2021-22 NABC Honors Court, earning the recognition for the second time in his collegiate basketball career. It marks the eighth time in program history that a Penn State Altoona men's basketball player has taken a spot on an NABC Honors Court.
The NABC Honors Court annually recognizes junior, senior and graduate student men's basketball student-athletes from all levels of college basketball who finished the academic year with cumulative grade point averages of 3.2 or higher. Over 2,000 players earned spots on the 2021-22 edition of the NABC Honors Court.
"Academic success is a core value of the NABC and a priority shared by men's basketball programs across the country," said NABC Executive Director Craig Robinson. "Excellence in the classroom requires hard work and dedication, and the NABC considers it a privilege to honor these deserving student-athletes and the coaches and staff who support them."
Frucella enjoyed a three-year career with the Penn State Altoona men's basketball program, graduating in May with a degree in business management and marketing. The forward appeared in 18 games for the Lions during the 2021-22 season and was a member of the team that posted a 19-8 overall record, including a 13-3 mark in the Allegheny Mountain Collegiate Conference that gave the program a share of the league's regular season title.