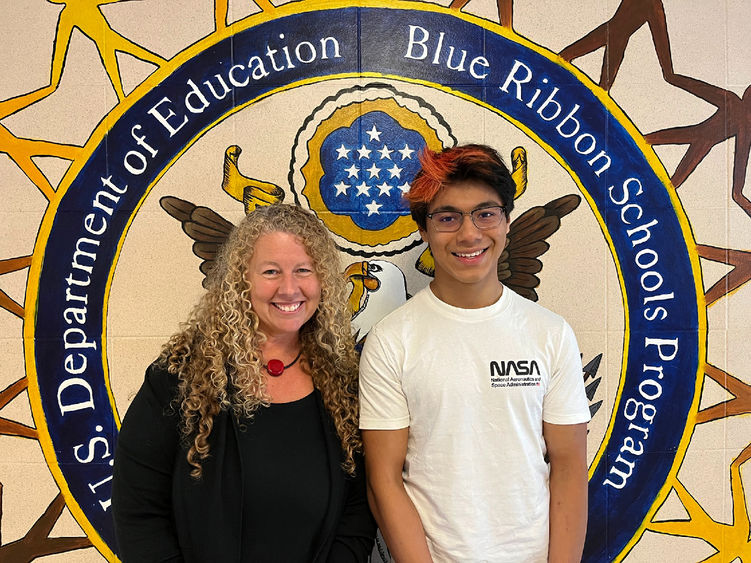 ALTOONA, Pa. — In her first official duty as Poet Laureate of Blair County, Erin Murphy, professor of English at Penn State Altoona, visited Mario Grugan, a Tyrone Area High School (TAHS) senior who is one of nine national finalists for the 2022 Poetry Out Loud competition.
Murphy met with Grugan and TAHS speech team co-adviser Leah Deskevich on May 24. They discussed the competition, Grugan's poetry, the writing process, publishing, and college and graduate school opportunities. Grugan also gave Murphy a preview of his performance for the national championship which will be held virtually on June 5.
To reach the finals, Grugan took first place at the local, regional, state, and national semi-final levels. He will compete for the chance to win a $20,000 award. His support network includes Nathan Kruis, assistant professor of criminal justice and a TAHS alumnus, who serves as a speech team volunteer.
Established in 2005, Poetry Out Loud is a national arts education program in which students compete by reciting poems by established poets. The goal is to help students develop public speaking skills, self-confidence, and an appreciation of the literary arts.
"Beyond the Poetry Out Loud performance, Mario is an outstanding poet in his own right," Murphy said, noting that his original poem "Concrete" was a runner-up for Poetry Out Loud's companion competition, Poetry Ourselves. "Blair County — and all of Pennsylvania — should be proud to have Mario representing us on the national stage."
Murphy was named Poet Laureate of Blair County on April 26. In this volunteer role, she serves as an ambassador of the literary arts by presenting readings, workshops, and other initiatives at schools, libraries, and community events.
Poetry Out Loud is a partnership of the National Endowment for the Arts, the Poetry Foundation, and the state arts agencies. The national championship will feature recitations by and interviews with all nine finalists at 7 p.m. on Sunday, June 5, in a one-time-only webcast.