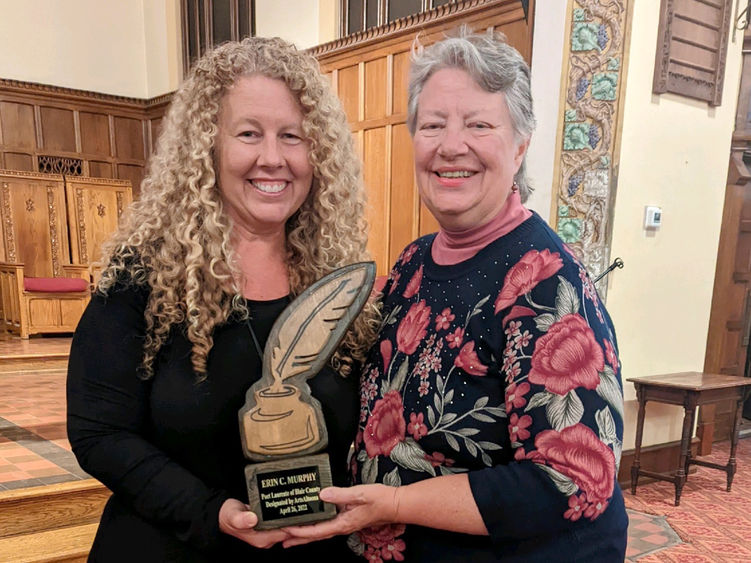 ALTOONA, Pa. — Erin Murphy, professor of English at Penn State Altoona, has been named the inaugural Poet Laureate of Blair County, a volunteer position that involves promoting poetry in the community.
The newly created position is under the auspices of ArtsAltoona, a nonprofit organization committed to connecting people through the arts to strengthen the community. Murphy received the honor on April 26, from Donna Gority, board president of ArtsAltoona, during a ceremony at the organization's center.
"ArtsAltoona is so excited to have designated Erin as the first Poet Laureate of Blair County," stated Gority. "We are looking forward to working with her to spread poetry awareness and creation around the county."
In her role, Murphy will serve as an ambassador of the literary arts by presenting readings, workshops, and other initiatives at schools, libraries, and community events. As the former executive director of a nonprofit arts organization and former Poet in the Schools for the Maryland State Arts Council, she brings considerable experience to the position.
"I'm looking forward to sharing the art form I love with the community I love," Murphy said, adding that she was especially thrilled to be named Laureate in April, which is National Poetry Month.
In addition to the U.S. Poet Laureate position currently held by Jo Harjo, there are numerous poets laureate across the country representing states, cities, U.S. Territories, Tribal nations, and municipalities. According to the Academy of American Poets, "These poets are important champions of the art form in their community and work to inspire the next generation of poets and their readers."
Murphy is the author or editor of 13 books, including "Taxonomies" and "Human Resources" (forthcoming from Salmon Poetry of Ireland). She is the recipient of numerous national and international literary honors, most recently the 2021 $5,000 Rattle Poetry Prize Readers' Choice Award. Locally, she is an inductee in the Blair County Arts Hall of Fame, a recipient of the WISE Women of Blair County Tribute Award in Arts & Letters, and a graduate of Leadership Blair County. At Penn State Altoona, she teaches creative writing classes in poetry, fiction, and creative nonfiction and has been honored for her teaching with the Athleen J. Stere Award, the Grace D. Long Faculty Excellence Award, and the University-wide Alumni Award for Excellence in Teaching.