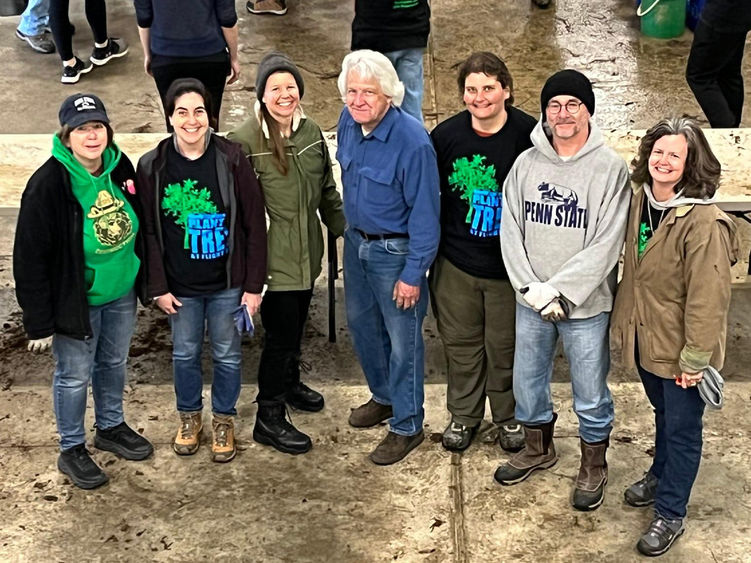 ALTOONA, Pa. — Faculty and alumni from Penn State Altoona participated in the 10th annual "Plant a Tree at Flight 93" event April 22 and 23.
Faculty included Professor of Biology Carolyn Mahan, Associate Professor of Biology Laura Palmer, Associate Professor of English Laura Rotunno, Associate Teaching Professor of History Doug Page, and Associate Professor of Physical Geography and Environmental Studies Lisa Emili. The group helped prepare thousands of tree seedlings that were then planted at the Flight 93 National Memorial in Shanksville, Pennsylvania.
The event is part of an ambitious conservation effort to restore and heal the landscape at the Flight 93 Memorial which was a working strip mine at the time of the crash on Sept. 11, 2001. Tens of thousands of native tree seedlings have been planted so far, and this year the planting process will be complete.
Distinguished Penn State Altoona alumnus Joe Pizarchik and his wife, Terry Boyd, editor in chief of "Research and Teaching at Penn State Altoona," also participated. Pizarchik was the director of Office of Surface Mining, Reclamation, and Enforcement (OSMRE) in the Obama Administration. OSMRE is a major partner in the restoration efforts at Flight 93.