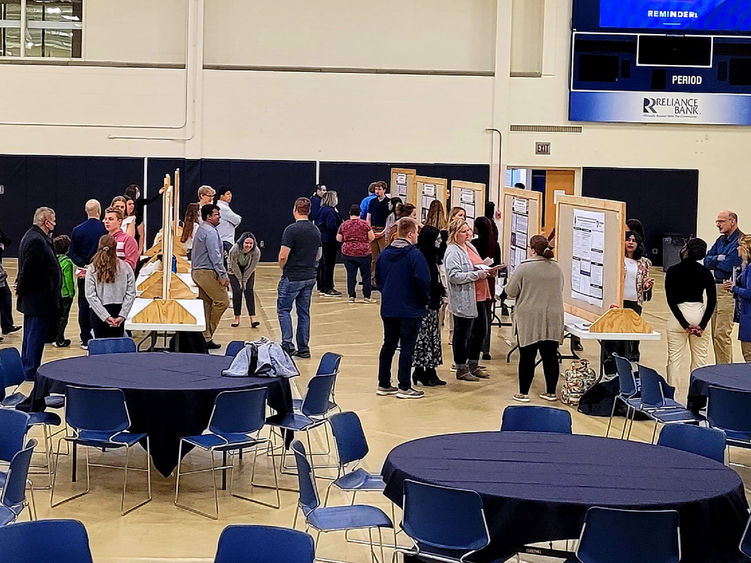 ALTOONA, Pa. — Forty students participated in Penn State Altoona's annual Undergraduate Research and Creative Activities Fair (URCAF), held Saturday, April 9, on campus.
The fair offers students a chance to share their research projects and other creative activities with the campus community, friends and family members through oral presentations, poster presentations and performances in categories including arts and humanities, social sciences, physical sciences, natural sciences, engineering, information systems technology, math and internships.
"This is our first in-person URCAF since the pandemic began, which made it particularly special for our student presenters and their faculty mentors," said Lara LaDage, undergraduate research coordinator. "These students and their mentors were able to persevere in research, creative activities and internships despite the multitude of barriers they encountered over the past two years, and everyone was excited to celebrate their accomplishments."
The Undergraduate Research and Creative Activities Fair is funded by the Office of Research and Engagement. First-, second- and third-place winners received a monetary award.
Presentations and results
Social sciences
First place: Rachel Kosaka, Tyler Frye and Alicia Williams — "Punitive Attitudes Toward Sex Offenders: Does Offender Sex Matter?
Second place: Jazzmine McCauley, Abigail Harvey, Cassandra Gartley and Tyler Frye — "An Empirical Assessment of the Relationship Between Jail Population Size and County-level Crime Rates in Central Pennsylvania"
Third place: Lindsay Fusco, Ziwei Lin, Rachel Kosaka and Tyler Frye — "Media Exposure and Perceptions of Police"
Physical and natural sciences
First place: Zachary Bell — "Protein Solubility Optimization of RNA-Helicase from Psychrobacter"
Second place: Philip Chamberlin — "To Improve Photovoltaics: Simulation and Nanotube Synthesis"
Third place: Gracie Harlow — "A test of the enemy release hypothesis in the New Zealand mud snail Potamopyrgus antipodarum"
Engineering, information sciences and technology, and mathematics
First place: Makayla Ianuzzi and Joshua Hollingshead — "Development and Experimentation of a Continuously Rotating Detonation Engine"
Second place: Andrew Sherren, Kyle Fink and Joshua Eshelman — "Road Energy Harvesting & Smart Highway"
Third place: Emma Hoover and Jessica Shearer — "Rooted Trees Connected to the Tribonacci Numbers"
Arts and humanities
First place: McKenna Hurd — "Invisible Things"
Second place: Maleah Orr — "Analyzing Anti-COVID-19 Vaccine and Anti-Mask Postings on Online Forums in Central Pennsylvania"
Third place: Madisyn Simington — "Mother's Days"
Internships
First place: Alicia Williams — "Impact of Co-Parenting Negligence: How Custody Agreements Impact Teen Parenting"
Second place: Kevin Karpovich — "Crossroads of Addiction"
Third place: Cierra Rhodes — "Generational Poverty and Negative Stereotypes"