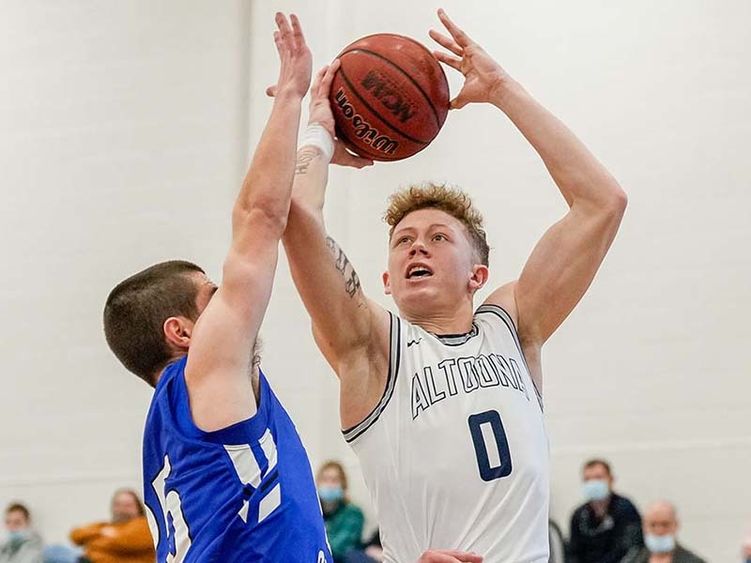 DANBURY, Conn. — A member of the Penn State Altoona men's basketball team garnered another postseason award on Wednesday, April 23, when guard/forward Andruw Harman (Chesapeake, Virginia/Great Bridge) was named to the first team of the All-Eastern College Athletic Conference's Division III men's basketball squad.
Harman enjoyed a productive 2021-22 season at both ends of the floor for the Penn State Altoona men's basketball team, culminating in his selection as a first team All-Allegheny Mountain Collegiate Conference (AMCC) pick and being voted the AMCC's Defensive Player of the Year.
Harman played in all 27 games for the Lions this season, including making 26 starts. In the AMCC, he ranked first in blocks (38), tied for first in blocks per game (1.4), second in defensive rebounds (137) and total rebounds (185), sixth in rebounds per game (6.9), ninth in free throws made (78), 11th in field goals made (129) and points scored (346), 13th in steals (32), 14th in field goal percentage (49.8), 16th in points per game (12.8) and assists (56), 18th in free throw percentage (65.5), 19th in steals per game (1.2), 20th in assist-to-turnover ratio (1.3) and assists per game (2.1), and 30th in points per 40 minutes (18.0).
Harman was twice named an AMCC Player of the Week during the season, receiving the award on Dec. 6 and Feb. 7.
This marks Harman's first-ever selection to an All-ECAC team.
Penn State Altoona men's basketball went 19-8 overall this season, including 13-3 within the AMCC. The Lions gained AMCC co-regular season champion status by tying for the top conference record in the league during the regular season, and the team earned the second seed in the conference postseason tournament. After suffering a loss in the semifinal round of the tournament, Penn State Altoona picked up a berth to compete in the ECAC Division III Championship Tournament, where the Lions defeated the United States Merchant Marine Academy in the quarterfinals before taking a five-point loss to William Paterson University in the semifinal round.