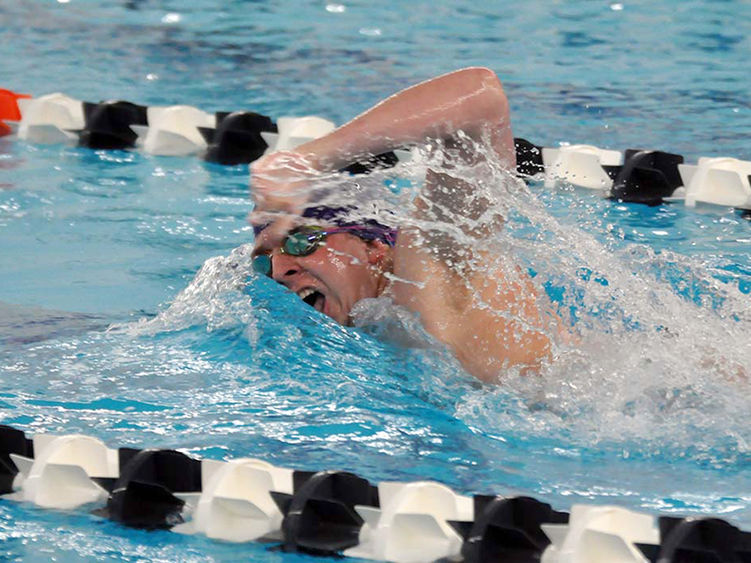 NORTH BOSTON, N.Y. — Two Penn State Altoona men's swimmers have earned All-Allegheny Mountain Collegiate Conference status, as the league announced its postseason awards on Friday, Feb. 25.
Isaac Swanson (Clearfield, Pennsylvania/Clearfield) and Luke Pletz (Jefferson Hills, Pennsylvania/Thomas Jefferson) each took first team All-AMCC honors, and Swanson also picked up a second team nod. AMCC all-conference teams are determined by swimmers' finishes during the conference championships, which were held Feb. 16-19 in Webster, N.Y.
Swanson's first team All-AMCC selection came in the 1,650 Yard Freestyle. He took first place in both the AMCC and the overall Empire 8-AMCC standings in that event, which was held during the fourth and final session of the AMCC Championships last Saturday. Swanson finished with a time of 16:37.45, placing first out of 21 total competitors while also setting a new Penn State Altoona men's swimming team record in that event.
Swanson also took second team All-AMCC status in the 200 Yard Freestyle, after he was the AMCC runner-up in that swim last Friday night with a time of 1:44.62. He took fourth place out of 10 total swimmers in the 'A' final, and he came in second out of four AMCC competitors.
Pletz earned his first team all-conference recognition in the 200 Yard Backstroke during Saturday's session, in which he led all AMCC swimmers with a time of 1:58.71. He took third place out of 10 total swimmers in the 'A' final, finishing first among three AMCC swimmers in that heat.
Penn State Altoona men's swimming placed third in the AMCC Championships, totaling 357 points as a team over the course of the four-day meet.