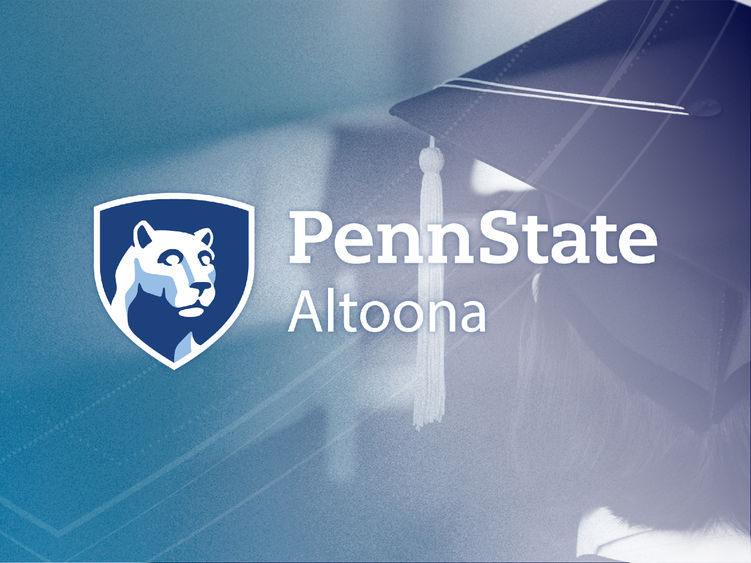 ALTOONA, Pa. — Penn State Altoona has announced the fall 2021 commencement student marshals. Student marshals are chosen to represent their academic division based on outstanding academic achievement.
At Penn State Altoona, student marshals lead graduating students from their division during the commencement procession. Penn State Altoona will hold its fall 2021 commencement ceremony on Saturday, Dec. 18.
Below are testimonials from each of the four student marshals.
Devin Poplin 
English major, Dance Studies minor
Student marshal for the Division of Arts and Humanities 
"Four years ago, I was shampooing a client's hair and watching the suds circle the drain of the black sink. I remember looking down at the scuffed, black and white tile floor and realizing that I was tired of being a hairstylist. That was the moment that I decided to apply to Penn State Altoona.
"I soon found my home in the English program, the honors program, the Writing Commons, and Misciagna 148. Misciagna 148 is not a typical classroom — it is the dance studio, complete with high ceilings, mirrors, a finished dance floor, and Professor KT Huckabee, who has quite possibly been the most encouraging and influential person I encountered throughout my college experience. Penn State Altoona has provided me with countless opportunities, ranging from performing with the Ivyside Dance Ensemble to boarding my very first flight to study abroad in London. The outstanding English faculty have pushed me to the best of my ability, which has shaped me into the writer I am today. I am grateful to them, the dance faculty, and friends and family who have shown me their support. After the immense challenges brought on by the past few years, it is a blessing to say that I am now a Penn State graduate, class of 2021."
Kaleb Knowles 
Electro-Mechanical Engineering Technology major
Student marshal for the Division of Business, Engineering, and Information Sciences and Technology
"I chose Penn State Altoona to begin my academic career after completing six years of service in the United States Air Force. Selecting Penn State Altoona was an easy decision, as it allowed for the smoothest transition from the military since Altoona was a short drive from where I grew up.
"After settling on the location for my undergraduate degree, the next important decision would be my major. Electro-mechanical engineering technology seemed an obvious choice after seeing my fellow high school graduates' success in their careers after finishing this degree. After completing a couple of semesters, my interest in the coursework allowed me to have a high level of motivation to maintain academic success constantly. This led to many fantastic opportunities as an undergraduate, specifically my participation in undergraduate research under the supervision of Dr. Anwar. I was afforded the ability to develop my interest in renewable energy systems and eventually landed on the focus of much of my research, which was in electrical vehicle charging optimization. This then led to more areas of interest, specifically in the fields of artificial intelligence and reinforcement learning.
"After graduation, I hope to continue exploring the interests that I built through my undergraduate research and secure a related position in the industry. After gaining experience, I plan to continue my education and grow my knowledge base in these fields by working on a graduate program that focuses on physical system modeling and artificial intelligence."
Alexandra A. Higgins
Nursing major
Student marshal for the Division of Education, Human Development, and Social Sciences
"I am honored to have been selected as the student marshal for the Division of Education, Human Development, and Social Sciences for the graduating class of fall 2021.
"Penn State has been home to me for five and a half years. I graduated from Penn State in May 2020 and then had the incredible opportunity to become a Penn State student again by attending Penn State Altoona's second degree nursing program. This allowed me to follow my dream of becoming a registered nurse while also giving me the ability to achieve my goal of obtaining an additional degree from Penn State. The decision to return to Penn State was easy because I knew the experience I would have here would be a special one. I not only knew that Penn State's nursing program was well known and well respected, but I also knew that returning to Penn State would be an opportunity to grow professionally and personally.
"I want to thank the amazing nursing faculty at Penn State Altoona for instilling in me a passion for nursing and teaching me all the necessary nursing knowledge and skills. Beyond academics, I want to thank my amazing friends that made Penn State Altoona a second home. These individuals pushed me to work hard while also encouraging me to have fun. I will be forever grateful for their friendship and support. Lastly, I want to thank my incredible parents and family for always being there for me and pushing me to be the best person I can be.
"Penn State has played a major role in making me the nurse I will be in the upcoming months and the person I am today. I will be forever thankful for the knowledge I have obtained and the memories I have created from this school.
"We Are, and always will be, Penn State!"
Ian J. Fisher
Environmental Studies major
Student marshal for the Division of Mathematics and Natural Sciences
"Penn State Altoona provided me with more opportunities to pursue my passion than I ever could have expected. I have always been passionate about reptiles, but as a freshman, I wasn't confident I would do anything meaningful with it. Through the help of faculty, I found my place in the environmental studies and biology programs. My coursework shed new light on our world and encouraged me to ask questions, find solutions, and stand up for what is right. I cannot thank Brad Ross and Dr. Mahan enough for providing me with valuable research opportunities and guiding me through my college experience. These professors allowed me to study reptiles and amphibians through undergraduate research and begin my professional journey, following my passion. I am honored and grateful to be selected as the student marshal for the Division of Mathematics and Natural Sciences."