Under federal mandate, faculty and staff at seven Penn State campuses required to be vaccinated by Dec. 8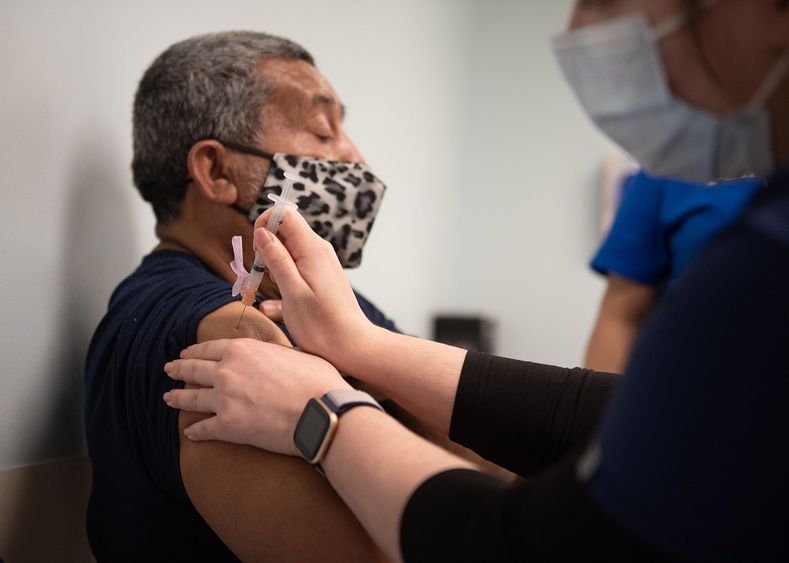 UNIVERSITY PARK, Pa. — Faculty and staff at Penn State campuses where they are required to be vaccinated for COVID-19 can now upload their proof of vaccination online and are encouraged to do so as soon as possible. The upload process is different than the verification process, which will commence soon, and the University will notify individuals if their vaccine upload proof is insufficient due to legibility or other reasons. The process for requesting accommodations also is a different process and will be announced when it is finalized.
The University announced last week that all faculty and staff at the University Park campus must be fully vaccinated against COVID-19 by Dec. 8 under President Joe Biden's recent executive order requiring vaccination for federal contractors. The requirement was extended to include the Altoona, Behrend, Brandywine, DuBois, Fayette, and Harrisburg campuses, where work is also being conducted under federal contracts.
The vaccine requirement applies to all employees affiliated with these campuses, including full-time and part-time faculty, staff and technical service workers, even if they are working remotely. This requirement also applies to graduate and undergraduate students supported on wage payroll, as well as all students supported on graduate assistantships at these campuses.
Individuals who have already shared their proof of vaccination with the University by uploading an image of their vaccine card do not need to take any action. Faculty, staff and World Campus students employed by the University who are unsure if they have submitted proof of vaccination can check their status on the University's Salesforce Health Cloud.
Faculty and staff who have not yet done so, need to upload their proof of vaccination into the University's Salesforce Health Cloud, a secure online platform for collecting health data. Proof of vaccination includes an image of the individual's vaccine card or other approved vaccination evidence described below.
Students on wage payroll or graduate assistantships need to upload their proof of vaccination through myUHS. Instructions can be found on the University Health Services (UHS) website. Students who have already uploaded their vaccine information and received the confirmation of upload from UHS do not need to upload again.
Individuals should upload their proof of vaccination after they receive their final dose — either the second dose of the Pfizer-BioNTech or Moderna COVID-19 vaccine or one dose of Johnson & Johnson's Janssen vaccine.
In order to meet the Dec. 8 deadline to be fully vaccinated, individuals must get their first and second doses of the various vaccines no later than these dates:
Moderna: first dose by Oct. 27; second dose by Nov. 24
Pfizer-BioNTech: first dose by Nov. 3; second dose by Nov. 24
Johnson & Johnson: single dose by Nov. 24
Accepted forms of proof of vaccination include:
a copy of the record of immunization from a health care provider or pharmacy;
a copy of the COVID-19 Vaccination Record Card from the Centers for Disease Control and Prevention
a copy of medical records documenting the vaccination;
a copy of immunization records from a public health or state immunization information system; or
a copy of any other official documentation verifying vaccination with information on the vaccine name, date(s) of administration, and the name of health care professional or clinic site administering vaccine.
Faculty and staff are permitted to provide a digital copy of such records, including, for example, a digital photograph, scanned image or PDF of such a record.
Individuals who were vaccinated in Pennsylvania and have misplaced their vaccination card can visit the Pennsylvania Department of Health website for information on how to obtain vaccine evidence. Individuals who were vaccinated in another state and need vaccine verification information can call the local vaccine provider that administered the vaccine or contact the state health department.
Individuals with vaccine records from locations other than the United States will need to submit official vaccination documentation of FDA emergency-use-authorization-approved vaccines in the United States or international vaccines that are emergency-use-listing-approved by the World Health Organization. Documentation needs to include all dates and specifics for each COVID-19 vaccine dose. All records must be in English.
Visit the University's Coronavirus Information website for the most up-to-date information on the pandemic and the University's mitigation efforts.