Appointment scheduling is now open for students to book COVID-19 testing, free to students, as part of efforts to minimize the spread of cases to other communities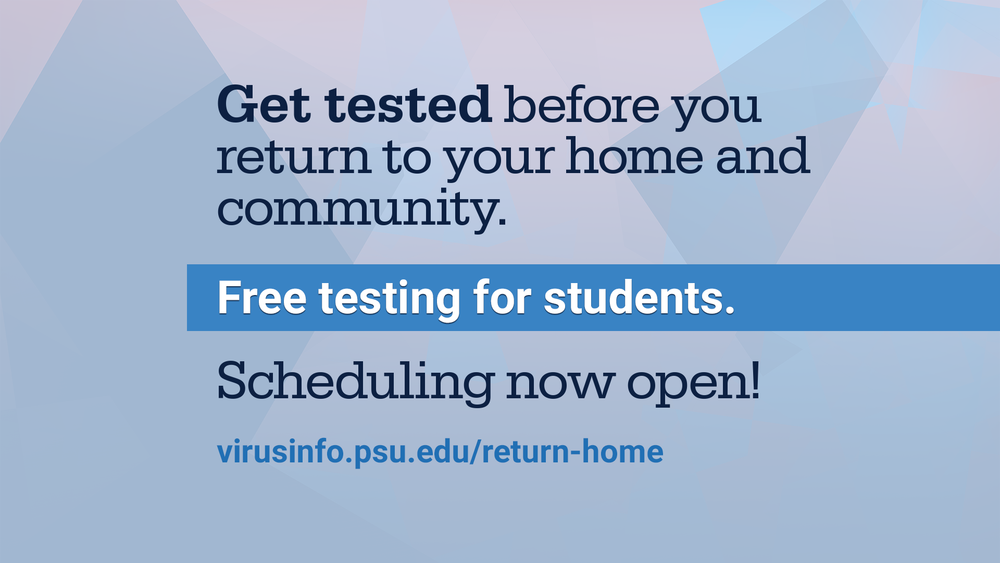 Nov. 12: This story has been updated to reflect changes in testing dates for Abington, Altoona and Berks.
UNIVERSITY PARK, Pa. — In preparation for the departure from campuses after in-person instruction ends on Nov. 20, Penn State has announced an aggressive fall departure plan offering all students COVID-19 testing, at no cost to students. Penn State is partnering with Vault Health for departure testing, which will be conducted either in person at predetermined testing sites on certain campuses or via self-administered test kits. Students can now book their appointment to receive an administered test or to pick up a self-test by using the Return Home Event on the Penn State Go App or by visiting virusinfo.psu.edu/departure-testing.
The University understands that those leaving its campus communities and traveling to other locations may be returning to families with vulnerable individuals. Students, whether living on or off campus, are being urged to get tested and continue to be vigilant in efforts to mitigate viral spread — by following all masking and social distancing requirements, limiting interactions with others outside of their roommates or "pod," avoiding large gatherings, and self-quarantining as much as possible — leading up to Nov. 20 or their planned departure date. Though some students may not be leaving and may live near their campus community permanently, they also may sign up for testing during the allotted time.
"It's important for students to schedule their testing appointments early and not wait until the last possible date to find out if they're infected, or if they have been recently infected before returning home," said Kelly Wolgast, director of the COVID-19 Operations Control Center. "If they test positive, this allows them to isolate prior to leaving campus and go home to family feeling more confident that they're not putting them at risk."
Scheduling departure tests
Details are available for the specific testing options being offered at each campus by visiting virusinfo.psu.edu/departure-testing. The University is working to make departure testing as easy as possible, allowing students to schedule an appropriate testing time based on their planned departure date. Appointments are necessary as tests are ordered by Vault Health and taken directly to the testing facility.
The voluntary on-campus departure testing will be offered from Nov. 12 to Nov. 19 at University Park and during the following dates at other campus locations:
Abington: Nov. 17
Altoona: Nov. 16 to 17
Berks: Nov. 16
Dickinson Law: Nov. 19 to 20
College of Medicine: Nov. 17 to 18
All other campuses: Nov. 16 to 17
Students are urged to test as soon as possible, particularly if symptoms are present, so that if an individual is found to be positive for COVID-19, they can complete their isolation period as quickly as possible. This way it will not delay students' departure plans or risk the health and safety of their family and the community. Students who have had a positive test result since Aug. 22 do not need to be retested. After booking an appointment, students will receive an automatic email confirmation message, which will also provide information on how to reschedule appointments, if necessary.
The turnaround time for results will be approximately 48 hours from the time a test is received at the lab; Vault Health will be picking up and transporting tests from Penn State campuses to its facility in New Jersey on a daily basis during the testing timeframe, which is why scheduling an appointment is essential. For those individuals who will use self-test kits, they will include detailed instructions to complete the test with a Vault Health representative virtually and individuals will drop off the kit at a designated campus collection site for courier pickup.
Test results are only used for contact tracing and providing appropriate support services to students. The University is required to report positive test results to the Pennsylvania Department of Health.
During the period of several days before being tested and prior to departing campus, students are asked to take extra precautions. As much as possible, individuals should limit their interactions with others to attending classes in person and getting food or other essentials until they travel.
Students who are symptomatic or concerned about COVID-19 exposure are urged to utilize the University's health care resources to seek out testing and facilitate contact tracing. University Park students who are experiencing COVID-19 symptoms should not visit the walk-up testing site and instead seek testing at University Health Services by using myUHS or calling the appointment line at 814-863-0774. Commonwealth Campus students should contact their campus' health care services. Any student on any campus with health concerns should call the 24/7 Advice Nurse at 814-863-4463.
Quarantine and isolation
Penn State's quarantine and isolation space at University Park and the Commonwealth Campuses will continue to be available after Nov. 20 for students who need to quarantine or isolate over the Thanksgiving break or after courses resume remotely on Nov. 30. This includes students who test positive for COVID-19 through the University's voluntary departure testing process and need to isolate prior to leaving campus, per Centers for Disease Control and Prevention guidelines. The University will continue to notify close contacts of infected individuals after Nov. 20 in the interest of public health.
Students who are identified as needing to isolate or quarantine on or before Nov. 20 are strongly encouraged to complete their isolation or quarantine period on campus or in another suitable single-occupancy space off campus before they leave for Thanksgiving break and remote learning. Penn State will continue all contact tracing efforts with any student who tests positive during the departure time as well as throughout the Thanksgiving break and into December.
Ongoing efforts
The University is in regular contact with the Pennsylvania Department of Health, which has reviewed Penn State's departure plan to minimize cases within the commonwealth and beyond. The ongoing efforts by students, faculty and staff to curtail disease spread on and near Penn State campuses, before and during the remote period, will also support preparations for a return to University campuses in the spring. Having tests on record for students this November will allow for a greater understanding of the health of the University population and will aid in planning for spring semester testing.
In order to provide the latest information about departure testing, including campus-specific details and answers to frequently asked questions, the University has launched a dedicated "Return Home" page on the University's Virus Information site at virusinfo.psu.edu/return-home. Students and their families should check this resource for updates about departure testing leading up to Nov. 20. Those individuals with other specific questions not covered on the website may call the COVID-19 Response Center at 814-865-2121.
With on-campus learning, working and other activities continuing through Nov. 20, it is imperative that the community does its part to limit the spread of COVID-19 — and support the effort to "Mask Up or Pack Up." The latest information about the University's response to the coronavirus pandemic is available at virusinfo.psu.edu.