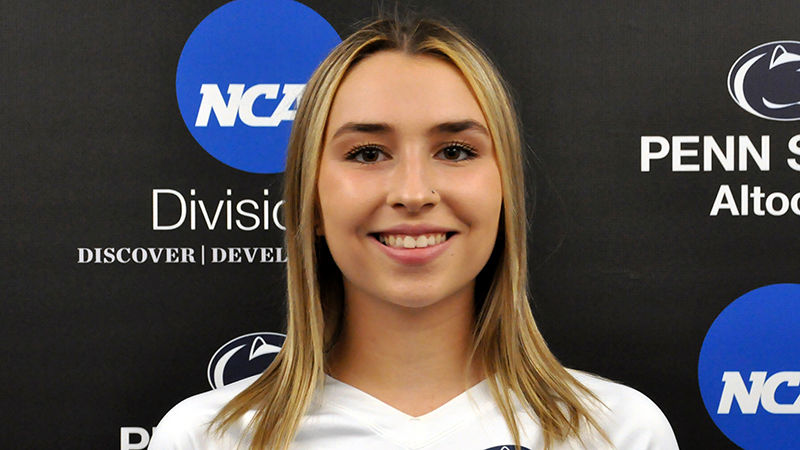 NORTH BOSTON, N.Y. — Penn State Altoona sophomore outside hitter Lacee Barnhart (Bellefonte, PA/Bald Eagle) received the Allegheny Mountain Collegiate Conference's Women's Volleyball Offensive Player of the Week award.
Barnhart spearheaded the Lions' offense last week in wins over non-conference opponent Elmira College and AMCC foe Medaille College.
In Friday night's 3-0 victory over Elmira at home, Barnhart totaled 10 kills on an impressive .409 hitting percentage. In Saturday afternoon's 3-0 home sweep of Medaille, the sophomore recorded seven kills and one service ace.
On the week, Barnhart totaled 19.0 points (3.8 points per set), 17 kills (3.40 kills per set), a .293 attack percentage, and one ace (0.20 aces per set). She also contributed to her team's defense, recording 12 digs (2.40 digs per set) and one solo block (0.20 blocks per set).
This is Barnhart's first career AMCC Player of the Week award.
Among all AMCC players this season, Barnhart currently ranks second in kills per set (3.46) and points per set (3.8).
Penn State Altoona women's volleyball holds a 7-2 overall record this season, including a 1-1 record in the AMCC. The team's next match is tomorrow, Tuesday, Oct. 5, when it will host non-conference opponent Penn State Harrisburg at 7 p.m. in the Adler Arena.