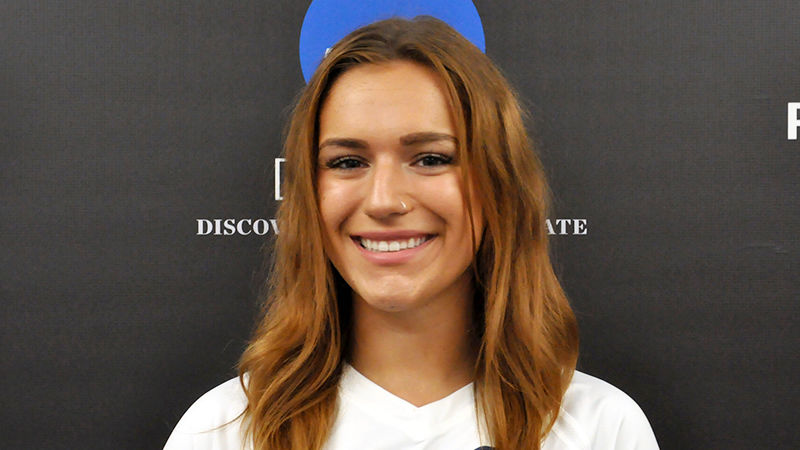 NORTH BOSTON, N.Y. — Penn State Altoona junior setter Kayla Moran (Boalsburg, Pennsylvania/State College) was named the Allegheny Mountain Collegiate Conference's Offensive Player of the Week in women's volleyball.
Moran powered the Penn State Altoona offense to a 3-0 week that saw the Lions defeat nonconference opponents Wilkes University, Chatham University, and Bridgewater College.
In her team's home opening 3-1 win over Wilkes on Tuesday night, Moran totaled 35 assists, three service aces, and two kills. In Wednesday night's 3-2 win at Chatham, the junior finished with 37 assists, five kills, and four aces. On Saturday, in the Lions' 3-2 victory at Bridgewater, Moran tallied a career-high 53 assists while adding two kills.
On the week, Moran recorded 125 assists (8.93 assists per set), nine kills (0.64 kills per set), and seven service aces (0.50 aces per set). She also contributed solid defense for Penn State Altoona last week, totaling 40 digs (2.86 digs per set) and two block assists (0.14 blocks per set).
This is Moran's first career AMCC Player of the Week award. She currently leads the AMCC in assists per set (8.80) while ranking third in total assists (176).
View the AMCC's listing of Moran as its Offensive Player of the Week
Penn State Altoona women's volleyball returns to action at 7 p.m. Thursday, Sept. 23, traveling to play nonconference opponent Lycoming College.