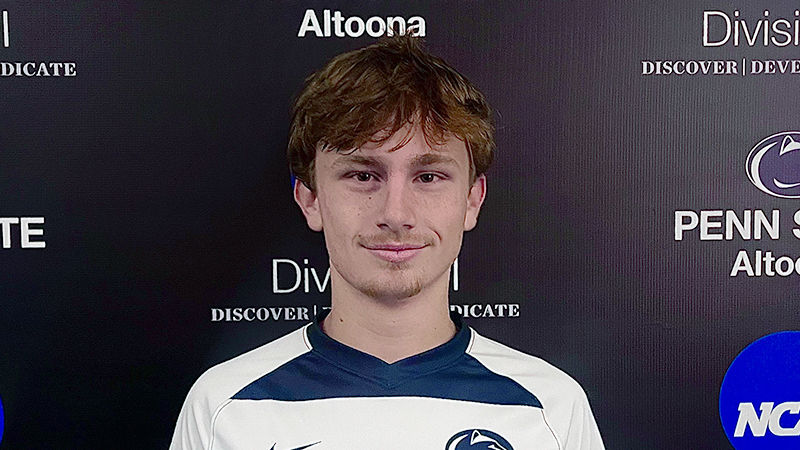 NORTH BOSTON, N.Y. — Penn State Altoona first-year forward Grady Ballard (State College, Pennsylvania/State College) was named the Allegheny Mountain Collegiate Conference's Offensive Player of the Week in men's soccer.
Ballard had a big week for the Lions — including a record-setting performance on Saturday — to help propel his team to a 3-0 record last week.
In Tuesday night's 2-1 win at home over nonconference opponent Saint Vincent College, Ballard scored the game-winning goal late in the second half and also assisted on the Lions' first goal of the contest. The freshman finished the game with four shot attempts, including two shots on goal.
During Thursday evening's 1-0 win at nonconference foe Thiel College, Ballard recorded a game-high five shots on goal and five shot attempts.
Ballard's most impressive performance of the week came in Penn State Altoona's AMCC opener at Hilbert College on Saturday afternoon, a game the Lions won 6-2. The forward set three new Penn State Altoona men's soccer program single game records by scoring five goals, totaling 10 points, and attempting 12 shots.
On the week, Ballard scored six goals and notched one assist for 13 points. He had 21 total shot attempts, with 16 of them being shots on goal.
Ballard currently leads the AMCC in assists (5) and points (21), is tied for first in goals scored (8), and is second in shots (38). This is his first career AMCC Player of the Week award.
Penn State Altoona men's soccer's next game is at home at 4 p.m. Wednesday, Sept. 22, against nonconference opponent Washington College.