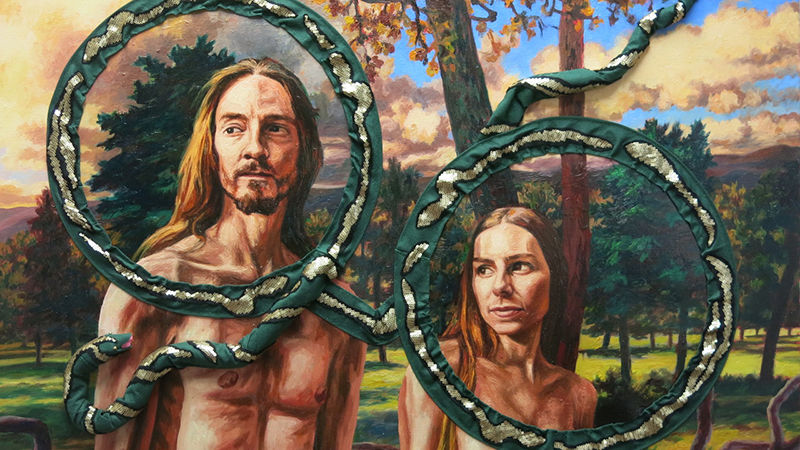 ALTOONA, Pa. — "Private Domain," a body of work by Ivyside Juried Art Exhibition winner Virginia Derryberry, will run Aug. 19 through Oct. 8, in the McLanahan Gallery of the Misciagna Family Center for Performing Arts at Penn State Altoona. The exhibition is free and open to the public.
"Private Domain" is a series of narrative paintings which blend symbolism from mythology and alchemy. "At first glance, it seems that a 'real' space is being defined, but in fact, the images are constructed from multiple viewpoints and lighting systems. Passages of volumetric rendering set next to more abstract, painterly areas result in the creation of a virtual, shifting world where nothing is quite what it seems," said Derryberry. In recent years this series has increased in complexity to push the viewer to question what is revealed and what is concealed within the piece, allowing them to conclude multiple interpretations from the visual transformations within the work.
Derryberry's work has been shown throughout the United States in solo and group exhibitions and featured in multiple publications. Her paintings are included in art installations at the Hartsfield-Atlanta International Airport and the Knoxville Convention Center. She has received numerous awards in the past decade, and her work has been purchased for both private and public collections, including The Carnegie Museum in Pittsburgh, the Asheville Art Museum, the Tennessee State Museum, the State of West Virginia's permanent collection, and the Morris Museum of Art. In the past five years, "Private Domain" was exhibited in Nevada, North Carolina, South Carolina, Alabama, Illinois, Pennsylvania and Florida. In 2020, in direct support of "Private Domain," Derryberry was selected by the University of North Florida, Jacksonville, as the Barbara Ritzman Devereux Visiting Artist.  
The galleries are open Monday through Thursday from 10 a.m. to 2 p.m. For further information, call the Misciagna Family Center for Performing Arts at 814-949-5452.