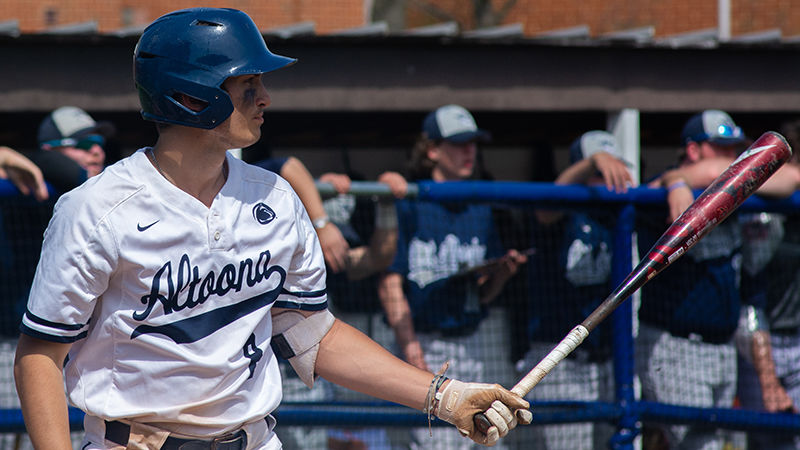 NORTH BOSTON, N.Y. — Penn State Altoona baseball's freshman third baseman Jake Hillard (State College, PA/State College) was selected the Allegheny Mountain Collegiate Conference's Player of the Week, the league announced on Monday, May 3.
Hillard continued his strong work with the bat this season in four games for the Lions last week, helping to propel his team to doubleheader sweeps over AMCC opponents Mount Aloysius College and Hilbert College.
In last Tuesday's doubleheader versus Mount Aloysius, Hillard combined to hit 3-for-7 with four runs batted in, two runs scored, one home run, and one triple. The freshman followed that up by going 6-for-9 with 11 RBI, five runs scored, three home runs, and two doubles in the Lions' games against Hilbert on Saturday.
On the week, Hillard batted .563 (9-for-16) with 15 RBI, seven runs scored, four home runs, two doubles, and a triple. He finished the week with a .529 on-base percentage, a 1.563 slugging percentage, and 25 total bases.
This is Hillard's first career selection as an AMCC Player of the Week. The freshman currently ranks second among all AMCC hitters in slugging percentage (.791) and total bases (68) while being third in home runs (7) and doubles (11).
Penn State Altoona baseball wrapped up its regular season schedule this past weekend, and the Lions hold an 11-13 overall record with a 9-7 mark in the AMCC heading into the conference tournament. The team has the number five seed entering the AMCC Tournament and will travel to play four seed Alfred State College in a first round, best-of-three series starting this Friday, May 7.