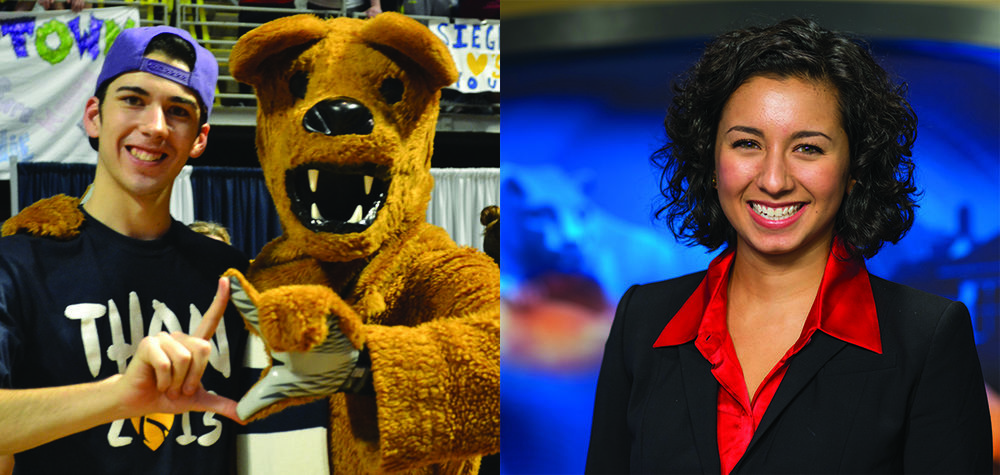 Marielena Balouris prides herself on preparation. She's determined, motivated and works hard.
A senior broadcast journalism major, she has completed several internships, including stints in Pittsburgh and Washington, D.C., that provided important hands-on experience and valuable perspective toward an eventual career on TV or behind the scenes.
Balouris is rarely surprised because she takes her educational opportunities at Penn State seriously. She has fun, but she's focused.
She might be a bit too trusting, though, because she was surprised earlier this month when she was one of 10 Penn State students selected for the annual Homecoming court.
"My roommate who is the public relations director for Homecoming told me they were planning a surprise for another friend, and when I got to the office at the HUB and opened the door, everyone screamed 'Surprise!' and gave me a sash, a crown and a balloon," said Balouris, 21, of Pittsburgh. "I was genuinely shocked."
She was one of two College of Communications students to get such a surprise. Senior telecommunications major Ricky Kopecky also was selected as a member of the Homecoming court.
"They notified me in class -- it was COMM 403 -- and it was one of those things that it was such a surprise I could not really react big enough," Kopecky, 21, of Lebanon, Pennsylvania, said. "It just left me speechless."
Students get spots on the Homecoming court after a nomination and interview process. They also submit an application. For her application, Balouris provided three essays and listed her leadership involvements and academic achievements. She finished with a 13-page application.
Balouris has served as an executive board member of the Lion Ambassadors, the 2013-14 executive producer of "PSN News," the 2014-15 State of State production director and a Penn State Dance Marathon captain in 2012. She's also currently completing another internship, as a news writer for AccuWeather.
Kopecky, also a Lion Ambassador, is an active member of the LGBTA community on campus and has consistently participated in THON. He started his career at Penn State Altoona and last year helped create a THON interest group for students who arrive at the University Park campus from commonwealth campuses.
That group, COMMON, grew from a core of a dozen or so students at the start to nearly four dozen students, welcoming participants from Penn State Berks, Penn State Lehigh Valley and Penn State Schuylkill, among others, in its first full year. The group raised more than $40,000 and earned two dancing spots at THON -- a rarity for a fairly young organization.
Kopecky serves on the board of directors for the Lebanon Community Theater and played the Scarecrow in the theater's presentation of the "Wizard of Oz" this past summer.
He anticipates the opportunities that being a member of the court provide during Homecoming week. That includes court members serving as hosts for the annual talent show Tuesday night and many related activities, including the Friday night parade.
"I think what we're expected to do is just be a good representation of the student body at Penn State," Kopecky said. "I'm just really looking forward to all the events. It's going to be a busy and exciting week."
Balouris also awaits those events, and getting to meet other members of the Homecoming court.
She decided on her major by melding her own strong theater background with her love for telling stories and meeting people. She eventually chose to channel her love for performance, reading and writing into the world of broadcast journalism.
"Penn State and the College of Communications have given me the platform to achieve and excel. The people at the College of Communications have been the best. I love them," Balouris said. "The college and its staff really give students the right tools to succeed."
Still, Balouris arrived on campus with a work ethic that was shaped by her family. Both her paternal and maternal grandparents migrated to the United States from Greece.
"My grandparents worked very hard to put my parents through college, they started out with $5 in their pockets. In turn, both my parents work very hard to put me through college," said Balouris, the oldest of three children. "My parents always tell me to take pride in what I do. They also set an expectation for me to be excellent in what I set out to do. You don't just do it, you do it well."
Along with Balouris and Kopecky, the College of Communications has a representative on the University Court comprised of faculty and staff members. Assistant Dean for Multicultural Affairs Joseph Selden was selected for that group, which also participates in all Homecoming events.
During his tenure at Penn State, Selden has served as president of the Council of Multicultural Affairs Directors, was selected as a special committee member for the Vice Provost's Orientation Planning Committee and was appointed a board member of New York City's chapter of the National Association of Multi-Ethnicity in Communications.
He received an outstanding rating for his diversity initiatives and accomplishments from the Accrediting Council on Education in Journalism and Mass Communications, and in 2012 was honored with the Robert P. Knight Award from the Association for Education in Journalism and Mass Communication for outstanding recruiting of diversity students in journalism.
Selden provides academic advising, coordinates peer mentoring, oversees the academic intervention program, advises student clubs, organizes cultural heritage programs, and recruits undergraduate and graduate students of color.