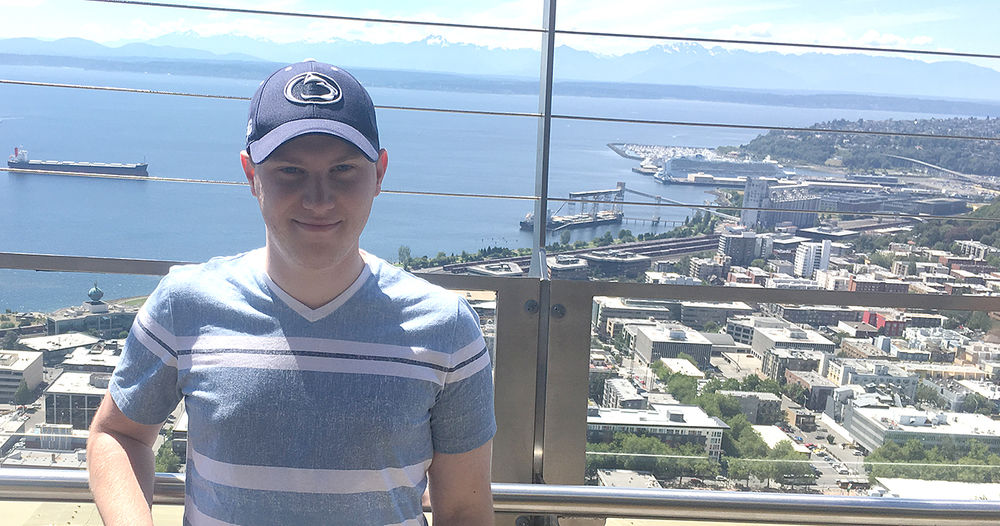 (Editor's Note: This is the fifth in a series of stories about College of Communications students completing summer internships.)
One Penn State student's planned trip abroad for an advanced German class this summer fell through, but he wasted little time finding another opportunity — moving from Pennsylvania to Seattle for an internship.
George Stockburger started his internship with Scout Media on May 23 and quickly embraced the varied opportunities provided by the company.
"They cover anything — baseball, basketball, football, hunting, fishing, military stuff. It's an interesting mix, and I'm working on a lot of breaking news," Stockburger said. "It's interesting to find what's going on and then get that information online."
Along with breaking news work, Stockburger helps maintain a half dozen social media accounts. He also edits and produces videos.
A senior journalism major, he initially planned on studying advanced German in that country but not enough students registered for the class. So, the Newtown, Pennsylvania, native, the oldest of Kim and George Stockburger's three sons, identified an alternative plan and worked to make it successful.
He's one of four interns in the company's Seattle office, which includes about a dozen employees, many of whom are programmers designing apps and websites. Scout Media also has an office in New York, and several employees work remotely.
Stockburger works every weekday, and in the first few weeks of the internship he's been afforded a variety of opportunities — honing individual skills with video and writing and collaborating during daily staff meetings pitching ideas and working toward implementation.
With both the internship and opportunities in the College of Communications and its John Curley Center for Spots Journalism, Stockburger believes he'll be well prepared for an eventual career in sports broadcasting. He thoroughly enjoys writing, though, and has worked for ComRadio, the internet-based station in the College of Communications.
Stockburger started his career at Penn State Altoona.
"When I was looking around at different schools, Penn State just felt right," he said. "I spent two years at Penn State Altoona and then came to University Park. It was a great transition," he said. "Once you get settled you find out how amazing everyone is and how people share this passion to succeed."
Along with the internship itself, Stockburger has made the most of his downtime in Seattle. So far, that has included a visit to the famous Pike Place Fish Market, the Space Needle, a Seattle Mariners baseball game, and both a chocolate tour and a food tour of the city. He has several other things remaining on his tourist to-do list for the summer.
Stockburger, originally a political science major, knows a friend from high school who also lives in Seattle. He said some introductory media classes, a sports writing class, and the constant vibrancy of the field helped ignite his passion for sports journalism.
That's why an opportunity on the other side of the country was not intimidating.
"It's what I want to be doing," he said. "So it's a great way to get experience."
Stockburger's brother Matthew starts his academic career at Penn State Schuylkill in the fall. Stockburger himself will return from Seattle to State College on Aug. 14. His internship officially ends two days earlier, and he hopes to squeeze in a few last sightseeing opportunities before returning.