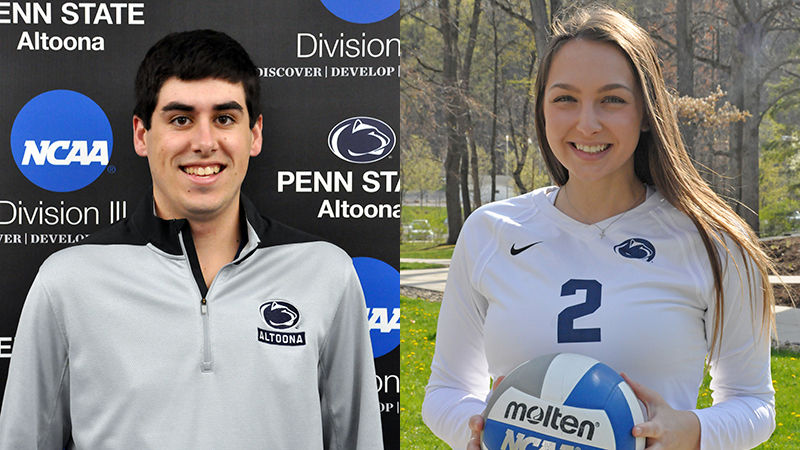 NORTH BOSTON, N.Y. — Two Penn State Altoona student-athletes recently have received awards for academic achievement.
After being announced as Penn State Altoona's Male Scholar-Athlete of the Year, men's golf and men's tennis senior Jimmy Gillespie (Glen Mills, Pennsylvania/Garnet Valley) was selected as the Allegheny Mountain Collegiate Conference's Male Faculty Athletics Representative Award recipient.
Faculty athletics representatives from institutions around the AMCC review each school's male and female scholar-athlete nominees, voting for one of each to take the conference's top honor. The award recognizes a student-athlete for outstanding academic achievement over the past year. Gillespie was voted this year's male FAR Award winner out of a field of nine total nominees from around the AMCC.
Also named to the AMCC's 2020-21 All-Academic Team was women's volleyball senior Velanna Skripek (Moshannon, Pennsylvania/Bald Eagle), who joins eight other female student-athletes from across the conference to be recognized for their academic success this past year.
Gillespie was a starter for both the men's golf and men's tennis teams this spring, all while maintaining a strong GPA as an accounting major.
In men's golf, Gillespie helped power the Lions to five first-place finishes in regular season events and a second-place finish in the AMCC Championships. The senior was a second team All-AMCC selection this spring, placing among the top 10 individuals in four different events while ranking third on his team and seventh in the conference in average (81.57).
In men's tennis, Gillespie appeared in four matches for the Lions this spring as his team's No. 1 singles and doubles player.
Gillespie has been a member of the Sheetz Fellows program at Penn State Altoona, and he received AMCC Academic All-Conference Peak Performer honors this year for having a GPA of 3.5 or higher. He has also been a member of Penn State Altoona's Student-Athlete Advisory Committee (SAAC) and has assisted with various community service projects.
Skripek was a leader for the women's volleyball program — despite its 2020-21 season being derailed due to COVID-19 — while also excelling in the classroom. She maintained a strong GPA as a marketing and management major, with a minor in entrepreneurship.
Although Penn State Altoona women's volleyball had its usual regular season canceled, the Lions still competed in a brief exhibition schedule during the spring semester. Skripek reprised her role as a starter and team leader in her squad's pair of spring matches, and she finished her four-year career with the team having played in 69 career matches and 199 career sets.
Skripek was the vice president of the Sheetz Fellows program at Penn State Altoona and was a member of the Sigma Beta Delta Business Honor Society. She received AMCC Academic All-Conference Peak Performer status this year for having a GPA of 3.5 or higher. Additionally, Skripek participated in Penn State Altoona's SAAC and Students About Living Truth (SALT).