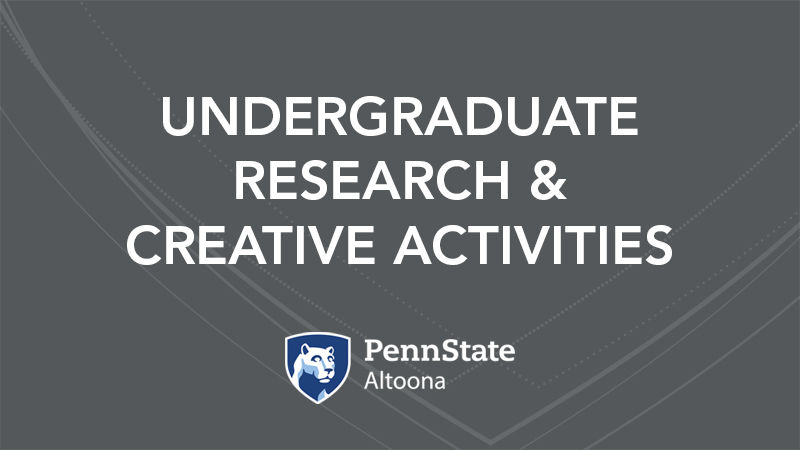 ALTOONA, Pa. — Time for students to sign up for Penn State Altoona's annual Undergraduate Research and Creative Activities Fair. There is virtually no better place for students across the academic spectrum to show everyone what they've been working on this school year through poster and oral presentations, demonstrations, and artistic performances.
While the fair is once again virtual, that does not mean "limited" in any way. Students will still be able to discuss their projects, read their papers, and perform dance or music. Past fairs show that students are only limited by their own creativity. In some ways, the virtual experience actually expands possibilities; for example, at last year's URCAF, one presentation took place on a school bus. And people who might not have the opportunity to visit the campus to see the displays and presentations can view the event online.
Laura Rotunno, associate professor of English and driving force behind the URCAF, says about the virtual experience in 2020, "While it was tough not to see the interaction between faculty, staff, students, friends, and family, the online presence allowed all of those people to interact with great work on their own time and to reach out–as I know many did–to congratulate students on the impressive studies they conducted and artistic work they created. And there is actually still that opportunity out there!"
For students who would like to participate but may not be sure how to create a poster, or possibly be concerned about making a presentation, workshops will be held on March 25 at 12:15 and March 31 at 4 pm. Rotunno explains, "The workshops will be very responsive to the needs of those who attend in terms of the URCAF, of course, but students may also learn how their work could grow and be entered in other fairs, as well as further-afield conference possibilities." To register for either workshop, contact Cori Biddle at [email protected].
The Fair will be held on April 10 from 9 a.m. to noon. The deadline for registration is March 1. Submission forms can be found on the URCAF webpage.