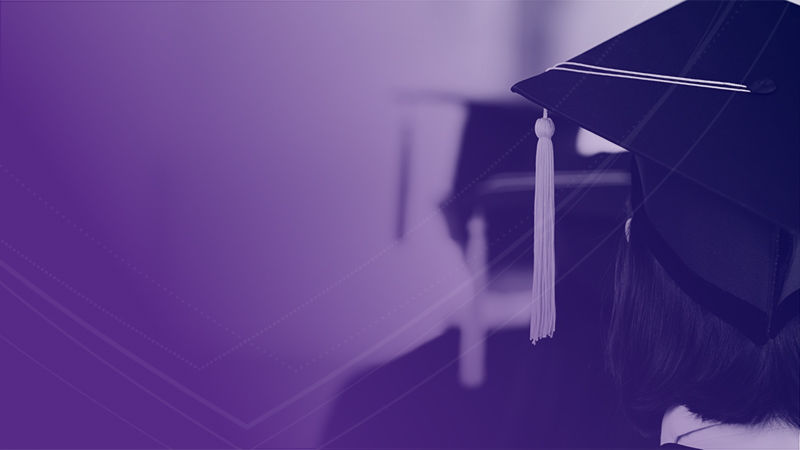 ALTOONA, Pa. — Penn State Altoona has announced the fall 2020 commencement student marshals. Student marshals are chosen to represent their academic division based on outstanding academic achievement.
At Penn State Altoona, student marshals carry their academic division's banner during the commencement procession.
In response to the coronavirus pandemic, Penn State will hold its fall 2020 commencement ceremony via livestream on Dec. 19. The virtual ceremony will recognize all Penn State undergraduate and graduate students.
As such, some of Penn State Altoona's marshals have provided video messages to their families, faculty, and fellow graduates.
Fall 2020 Student Marshals
Sierra R. Snigier
Bachelor of Arts, Communications — Division of Arts and Humanities
"At Penn State Altoona, I found a version of myself that I didn't know existed," said Sierra R. Snigier. "When I arrived, I was overwhelmed as a first-generation student four hours away from home. As I began to join clubs and gain leadership positions, I felt that I blossomed into a leader. As my time at Penn State Altoona ends, I am reflecting on a bracelet that I made during my sophomore year. We were told to write an encouraging word on our bracelet. I chose the word 'grow.'
"Throughout my time here, I participated in five clubs, two collegiate sports, two honor societies, two internships, and became a sister in the Alpha Sigma Tau sorority. Within those organizations, I held 15 leadership positions that impacted my future career choices. I never saw myself becoming a collegiate bowler, advocating for the environment, becoming the Student Government Association president, or graduating early. These experiences, whether big or small, helped me to grow. As I look at that same bracelet now, I am proud of the growth that Altoona has provided me both professionally and spiritually.
"I want to give a special thank you to my professors. They supported that growth and helped push me forward. I would also like to thank the Student Affairs staff and the dedicated women in the Center for Student and Civic Engagement office. They helped me through the best and worst of times during college. Each day they strive to make sure that we have the most positive experiences possible.
"As a result, I have grown into a well-rounded woman with unique skills, knowledge, and abilities, so I got the chance of a lifetime by committing to Penn State Altoona. Penn State Altoona has meant the world to this Nittany Lion, and I know it has for my fellow graduates, too. Each of us has overcome obstacles never before faced by college students. To the Class of 2020, WE are done! In the midst of a global pandemic, we are stepping out into the world, ready to lead, inspire, and make our mark. In the words of Pink Floyd: Shine on, you crazy diamond!"
Sara L. Ritchey
Bachelor of Science, Business — Division of Business, Engineering, and Information Sciences and Technology
"I originally chose Penn State Altoona because it is a short drive from my house and it seemed like a safe choice for school," said Sara L. Ritchey. "Over the past four years, I have been pushed academically and socially. Penn State Altoona is a great school that offers many wonderful classes, clubs, and activities that are fun, educational, and help prepare you for the future. I have developed into someone who is ready and excited to take on the future.
"My professors have played a big part in this growth. Over the years, the small class size has allowed me to build a close relationship with many of my professors, making it easy to talk to them and ask them questions. I also had the opportunity to join the Brazilian Jiu-Jitsu club. The club opened a new door for me and allowed me to find a new activity I really enjoyed. Through the club, I was also able to branch out and meet new, interesting friends.
"Even though graduation will not be the way I originally envisioned it, I am extremely proud to be graduating from Penn State Altoona. I am very grateful for my professors, family, and friends for helping me along my journey. I am excited to start my new adventure because I know Penn State Altoona has prepared me for what lies ahead."
Grace Ann Leri
Bachelor of Science, Psychology — Division of Education, Human Development, and Social Sciences
"I'm honored to have been selected as the Student Marshal for the Division of Education, Human Development, and Social Sciences for the graduating class of Fall 2020," said Grace Ann Leri.
"My experience at this school has resulted in more than just a diploma. I have discovered and refined a sense of curiosity that I had failed to take advantage of before. I have not only built on my strengths, but I was taught how to identify and improve on my weaknesses. I have learned how to think critically, to take on new perspectives, and to keep an open mind. Most importantly, I have learned to seek out new challenges instead of hiding from them. None of this would have been possible if I didn't have mentors and professors who were willing to push me. My advice to current and future students is this: Take full advantage of the resources this campus has to offer. Understand that you have people in your corner who want you to succeed. Be open to letting them help you and don't be afraid to put yourself out there.
"Since my time at Penn State is coming to an end, I want to give a final thank you to everyone who has and continues to invest their time in shaping the upcoming generations. My classmates and I will do our best to make that investment worth it. Congratulations and good luck to everyone."
Tammy L. Knode
Bachelor of Science, Mathematics — Division of Mathematics and Natural Sciences
"My dream has come true! I have always known that something significant was missing in my life: completing my degree. However, I had no idea how fulfilling the process would be," said Tammy L. Knode. "Penn State Altoona not only gave me a quality education, but it also renewed my faith in mankind. The professors, who are some of the best in their fields, truly care about their students as people. They go out of their way to ensure that students understand and excel. Also, I could not boast more about the students: I have never seen such a large group of young people who act with such dignity and respect. The endless homework, the anxiety during exams, and the weekends and holidays with no life other than school were definitely worth it. Being a college graduate is a tremendous accomplishment, but being a Penn State graduate is the icing on the cake.
"I could not have achieved this dream without the support of so many. To my children, thank you for your encouragement and your belief in me. I was blessed when God sent you to me. To the amazing professors, keep doing what you do. Everyone who walks into your classroom is a better student when you are done. To the rest of the graduating class, as well as to all Penn State Altoona students, follow your dreams. Do not just do what is expected of you. Do what makes you happy, what makes your heart feel good, and what you were meant to do. I am genuinely honored to be chosen as the Student Marshal for Penn State Altoona's Division of Mathematics and Natural Sciences. Now, on to the next dream."