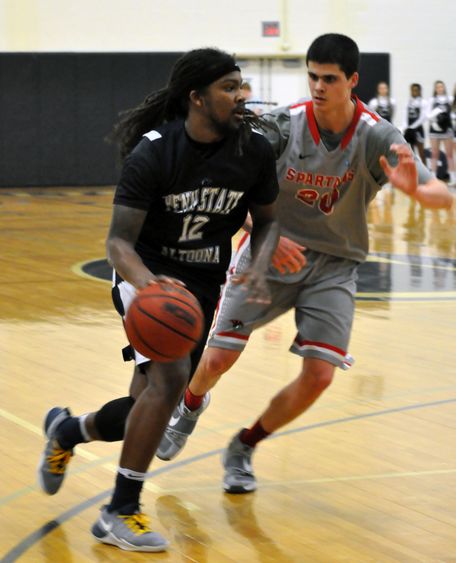 Men's Basketball:
La Roche College 79, Penn State Altoona 75
Penn State Altoona 91, Mount Aloysius College 70
Penn State Altoona 69, Penn State Behrend 67 (overtime)
Penn State Altoona 80, D'Youville College 70
Penn State Altoona 99, Pitt-Greensburg 86
Lions senior guard/forward Javon Wilson (Washington, D.C./T.C. Williams) was named the Allegheny Mountain Collegiate Conference's Player of the Week on Monday, Jan. 16, for his performance the previous week, during which he averaged 18.3 points per game, 4.3 assists per game, 3.7 rebounds per game, and 2.3 steals per game.
Men's Swimming:
York College 118, Penn State Altoona 71
Penn State Altoona 126, Gallaudet University 52
Penn State Altoona 77, Wells College 17
Penn State Altoona sophomore John Polidoro (Bensalem, PA/Holy Ghost Preparatory) was picked the AMCC's Swimmer of the Week on Monday, Jan. 9, after winning two individual events (1000 Yard Freestyle and 500 Yard Freestyle) and helping his team win a relay event (800 Yard Freestyle Relay) in the Lions' previous meet, a win over Wilkes University.
Women's Basketball:
Penn State Altoona 78, Mount Aloysius College 77
Penn State Behrend 61, Penn State Altoona 50
D'Youville College 69, Penn State Altoona 63
Pitt-Greensburg 104, Penn State Altoona 101 (overtime)
In a win at Mount Aloysius on Wednesday, Jan. 11, Penn State Altoona senior guard Brittany Boslet (Altoona, PA/Bishop Guilfoyle) scored the game-winning three-pointer with just two seconds left. In a loss at Pitt-Greensburg on Wednesday, Jan. 18, Lady Lions junior forward Megan Wheeler (Lilly, PA/Penn Cambria) scored a career-high 30 points.
Women's Swimming:
York College 125, Penn State Altoona 56
Penn State Altoona 110, Gallaudet University 66
Penn State Altoona 56, Wells College 32
In her first meets of the season, Lady Lions freshman Emily Booz (Berwyn, Pennsylvania/Conestoga) recorded a total of three individual first place finishes and one relay first place finish. She had one individual first place on Friday, Jan. 13, in a tri-meet with Gallaudet and York, winning the 100 Yard Backstroke. In a victory at Wells on Tuesday, Jan. 17, she won the 50 Yard Freestyle and the 200 Yard Backstroke and also helped her team prevail in the 200 Yard Medley Relay.