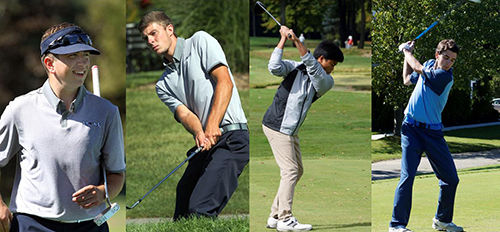 Men's Golf
Four Penn State Altoona men's golfers were selected to the All-Allegheny Mountain Collegiate Conference team, which the league released on Friday, Oct. 21.
Voted second team all-conference were seniors Jared Wood (Hollidaysburg, Pennsylvania/Hollidaysburg) and Matt Dillon (Roaring Spring, Pennsylvania/Central). Wood competed in eight rounds of golf for the Lions this fall, ranking 11th individually in the AMCC with an average of 81.38 strokes per round. Dillon golfed in all 10 rounds for Penn State Altoona, and his average of 81.8 strokes per round was 15th-best in the AMCC.
Selected to the all-conference third team were freshman Pongthong Thongyai (Patum Thani, Thailand/New Mexico Military Institute) and sophomore Adam Osborne (Tipton, Pennsylvania/Bellwood-Antis). Thongyai was 14th in the AMCC in strokes per round, averaging 81.7 per round in 10 rounds of golf for the Lions. Osborne golfed in all 10 rounds this fall for Penn State Altoona, leading his team and ranking ninth in the conference in average, shooting 80.8 per round.
Men's Soccer
Penn State Altoona 3, D'Youville College 1
Penn State Altoona 3, Pitt-Greensburg 1
Lions sophomore midfielder Luke Nelson (York, Pennsylvania/Dallastown) was selected the AMCC's Offensive Player of the Week on Monday, Oct. 24, after scoring two goals and adding one assist in his team's conference wins over D'Youville and Pitt-Greensburg.
Men's Swimming
Alfred State College 110, Penn State Altoona 92
Freshman David Heckel (Lititz, Pennsylvania/Warwick) recorded two individual first place finishes in his team's meet at Alfred State on Saturday, Oct. 22, winning the 200 Yard IM with a time of 2:05.67 and the 100 Yard Breaststroke with a time of 1:03.29. He also contributed to his team's first place in the 200 Yard Medley Relay, as he joined with his teammates to post a combined time of 1:47.85.
Women's Soccer
D'Youville College 3, Penn State Altoona 0
Pitt-Greensburg 2, Penn State Altoona 1 (final/2 overtimes)
Lady Lions junior forward Shoshana Mahoney (Sweet Valley, Pennsylvania/Lake-Lehman) scored her 20th career goal in her team's 2-1 loss to Pitt-Greensburg on Tuesday, Oct. 25.
Women's Swimming
Alfred State College 117, Penn State Altoona 71
Lady Lions sophomore Eva Gerhart (Pottstown, Pennsylvania/Owen J. Roberts) notched two first place finishes against Alfred State on Saturday, Oct. 22. She won the 1000 Yard Freestyle with a time of 12:49.59, then got first place in the 500 Yard Freestyle by clocking in at 6:16.69.
Women's Volleyball
Penn State Altoona 3, Medaille College 0
Penn State Altoona 3, La Roche College 1
Penn State Altoona women's volleyball clinched the number two seed in the upcoming AMCC Tournament, receiving a first round bye in the playoffs.