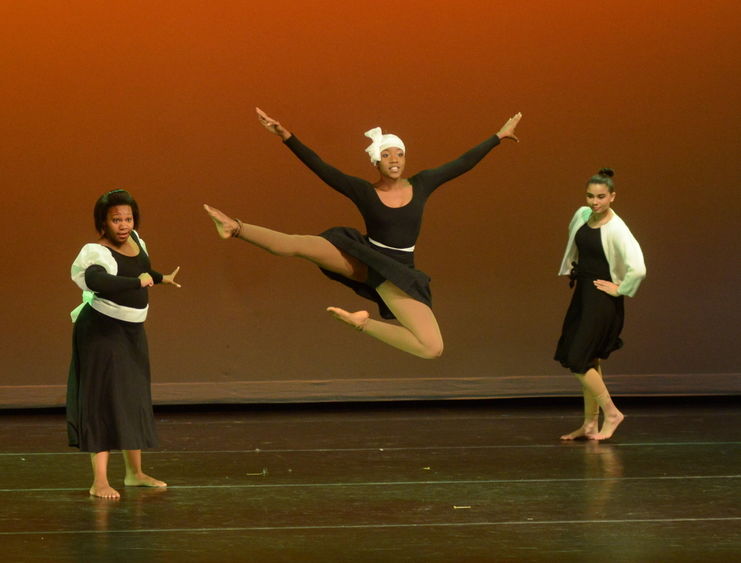 ALTOONA, Pa. — Penn State Altoona's Ivyside Dance Ensemble will perform at 7:30 p.m. Nov. 10-11 in the Misciagna Family Center for Performing Arts. Tickets are $5 for Penn State Altoona students and $7 for general admission. Children under 12 are free.
Performances include new work by guest artist Becky Bickford, specialist in West African traditional dance, who will bring a band of live drummers to add to the evening's excitement. Company director Caitlin Osborne will restage "Grotesqueries," a masked theatre-style piece, which will also be featured in "Deep Into That Darkness," a work centered on the writings of Edgar Allen Poe, on Nov. 18 at the State Theatre in State College.
Two other pieces will spotlight the newest dancers in the company. "Catch this Trio" contains sly reference to famous choreographers David Parsons and Yvonne Rainer, while "Instructions for being a Girl" explores the connections between dance and personal presentation set to the upbeat sounds of Mexican Institute of Sound + Toy Selectah.
Faculty member KT Huckabee brings back her collaborative work "Impressions" in which dancers move in dialogue with paintings by Erica Harney. Premiered in 2011, "Impressions" features hand-painted costumes by Julie Piotti, Penn State Altoona's costume shop manager.
Tickets may be purchased at the box office from 10 a.m. to 2 p.m., Monday through Friday, and before and during all performances. For more information, call the Misciagna Family Center for Performing Arts at 814-949-5452 or visit Penn State Altoona online at www.altoona.psu.edu.