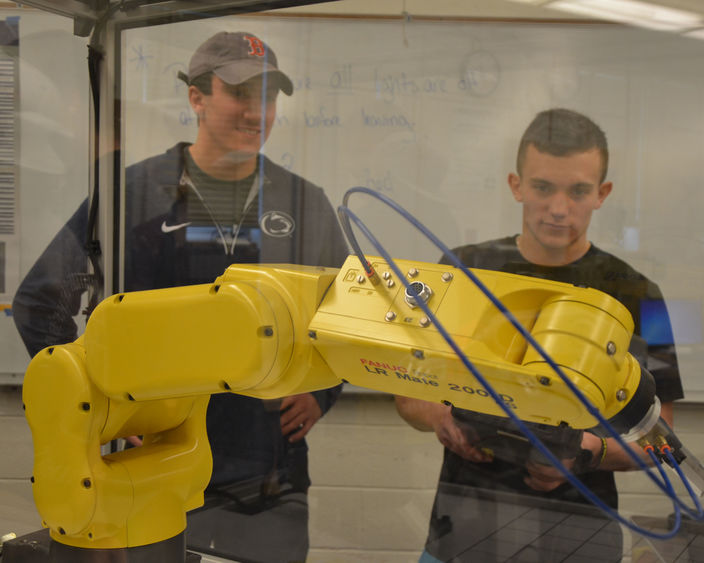 A gift agreement through FANUC America and Allegheny Educational Systems has enabled Penn State Altoona to purchase four industrial grade automation robots at a discounted cost to support the Electro-Mechanical Engineering Technology (EMET) program.
These robots replaced 20-year-old models that were being used, allowing students to experience current FANUC technology and prepare for what they can expect to find in production facilities after graduation.
Eric Beaver, supervisor of the engineering laboratories at Penn State Altoona, remarked, "As the robotic industry market leader, FANUC robots are used worldwide in all kinds of capacities. Providing this technology in the classroom will enhance the student experience."
"We sincerely appreciate the opportunity to collaborate with Penn State Altoona," said Paul Aiello, director of FANUC Certified Automation Training (CERT). "The addition of the new FANUC robots will help students prepare for high-tech careers in automation."
FANUC America Corporation is the leading supplier of robotics, CNC systems, and factory automation. FANUC's innovative technologies and proven expertise help manufacturers in the Americas maximize efficiency, reliability, and profitability.
Allegheny Educational Systems is the educational distribution arm for FANUC America in Pennsylvania. "We are proud to be part of this partnership and will work alongside the students and faculty to make this a successful partnership for years to come," said John Walters, president of Allegheny Educational Systems.
Penn State alumni and friends are invaluable partners in fulfilling the University's land-grant mission of education, research and service. Private gifts from alumni and friends enrich the experiences of students both in and out of the classroom; expand the research and teaching capacity of our faculty; enhance the University's ability to recruit and retain top students and faculty; and help to ensure that students from every economic background have access to a Penn State education. The University's colleges and campuses are now enlisting the support of alumni and friends to advance a range of unit-specific initiatives.