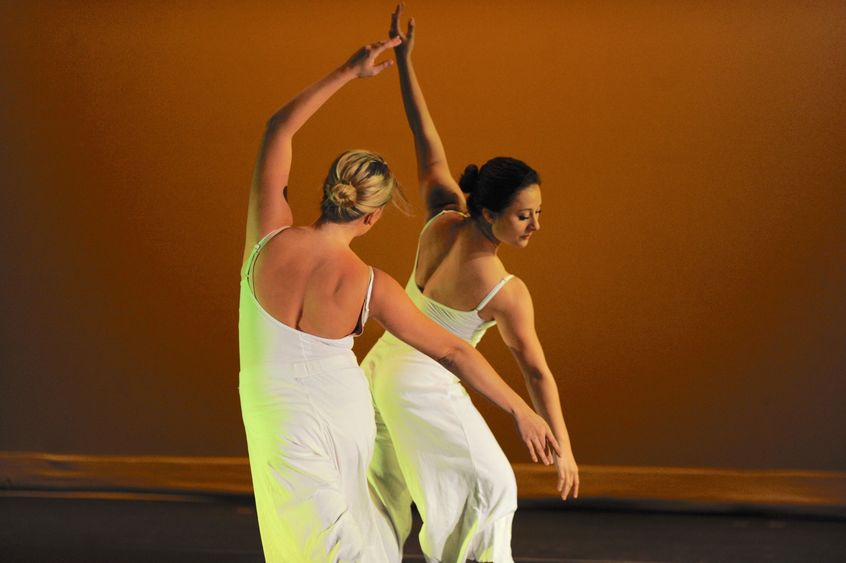 Penn State Altoona's student dance company will present six new and repertory pieces choreographed by faculty members KT Huckabee and Caitlin Osborne at 7:30 p.m. April 28 to 29, in the Wolf Kuhn Theatre of the Misciagna Family Center for Performing Arts. Tickets are $5 for Penn State Altoona students and $7 for general admission. Children under 12 are free.
Included in the program is "Pageant," a new musical comedy style of work featuring six students from Ivyside Pride, Penn State Altoona's choir, on hiatus for the semester. Ivyside Dance Ensemble director Caitlin Osborne said, "I know a lot of vocalists are interested in musical theatre, but it can be difficult for those students to schedule dance and theatre experiences when they are focused on vocal training. This piece gave them the opportunity to get a taste of the dancer's work and gain some crossover training that they might be able to use in the future. I'm very proud of how hard they are working, and I think that everyone is benefiting from working across disciplinary boundaries," Osborne also created a new work for the full company and reworked a repertory ballet piece, "The Surface of Water," and features new costumes by the company's student designer, Nena Rapposelli.
Huckabee mounted a dance based on Luigi-style jazz technique. She said "I had the pleasure of teaching an advanced jazz class in the fall with many of the current company members. Since we were studying Luigi intensively, it seemed an opportune moment to create a new work in his style." Louis "Luigi" Facciuto created the first formalized jazz technique for studio use in the mid-20th century.
Tickets may be purchased at the box office from 10 a.m. to 2 p.m. Monday – Friday, and before and during all performances. For further information, call the Misciagna Family Center for Performing Arts at 814-949-5452 or visit the Penn State Altoona website at www.altoona.psu.edu.