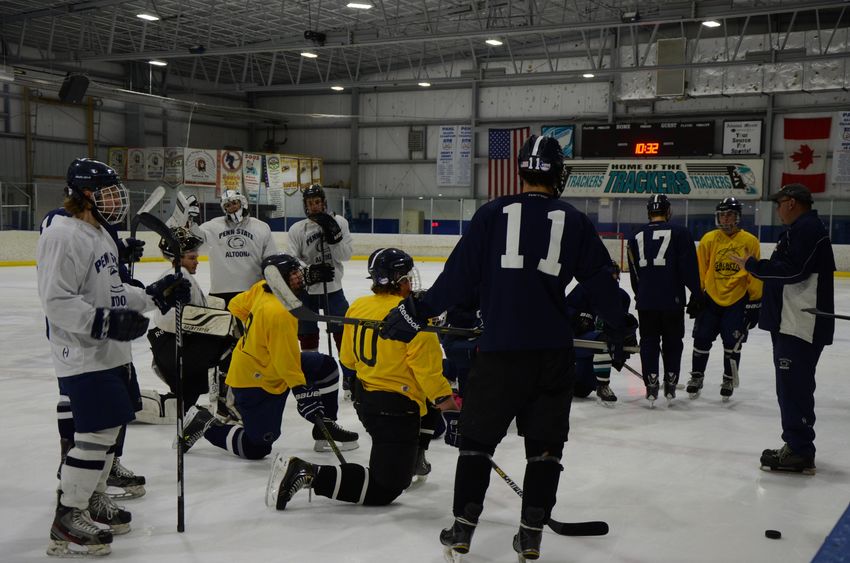 ALTOONA, Pa. — It's 10 a.m. on a Thursday over spring break. Most students are likely an hour or two away from even getting out of bed. But at Galactic Ice in Altoona, about 20 guys are awake, suited up, and on the ice. The club ice hockey team is headed to Newark, Ohio, March 18-20 for nationals, and they need every minute of practice they can get.
Established in 2002, Penn State Altoona's Division III club ice hockey team competes in College Hockey East (CHE), a collegiate club sports hockey league comprised of colleges and universities from western Pennsylvania and surrounding areas. The team is also a member of the American Collegiate Hockey Association (ACHA), and this year it joined the National Collegiate Hockey Association (NCHA), which includes teams from all over the country.
Penn State Altoona's club ice hockey team is unique for a few reasons. One is that the team practices off campus, so players have to be able to secure their own rides to and from training. They must also fund themselves for the most part, which can cost upward of $2,000 per player each season. And third, because a number of Altoona's students transfer to University Park after two years, primarily freshmen and sophomores compete against other teams that have had the same core group of players for four or even five years. In essence, Altoona is turning over a new team nearly every two years. "To put out a competitive team is difficult because of that," said general manager and head coach Tom Lantz. "But we get a lot of talented kids here."
Never has that been more evident than this year. Coming off last year's lackluster season, the team regrouped and set some goals. "It was a good learning experience for us last year," said co-captain Mike Ludwig. "We didn't have the year we wanted to, so we hit it hard as soon as the fall semester started so that wouldn't happen to us again."
As the players started to build the team, they were pleasantly surprised to see how well they worked together and played as a group. They began to rack up wins throughout the season, becoming more focused and determined with each success. The team practices three times a week, once off-ice at Dorman's Sports Performance and twice on the ice at Galactic, usually until after midnight. "This has been a fantastic team, one like no other I've ever had," said Lantz. "The dedication and brotherhood is amazing. They are where they want to be and are a focused and determined group. I couldn't be more proud of them."
The guys hang out outside of practice, as well. "We do everything together. We watch NHL games at each other's houses, order pizza, and play Xbox. We are just a really close team," said Ludwig, a sophomore from Point Pleasant Beach, New Jersey. Players help each other keep up on schoolwork and support one another through the other pressures of college. They perform community service together through Blair County's Mending Hearts animal rescue, and offer a skating fundraiser in October that collects money for THON.
That kind of camaraderie only strengthens the team on the ice. "We love it; we are always with each other. We are like one big family. Of course we argue and fight, but that's what families do," said assistant captain Nico Gricco, a sophomore from West Chester.
In February, the team won its first-ever CHE conference championship game against Saint Vincent with a final score of 5-2. Although the CHE is separate from the NCHA, the team's wins for the CHE count toward its NCHA record, which helped to secure a bid for the NCHA nationals. Gricco was the leading scorer for the NCHA league this year, and the team also had five of the top 10 scorers in the league, an impressive number to be sure.
"This is a big deal," said Ludwig, who, after being accepted to Penn State Altoona, immediately made sure the campus had a hockey team. "I've never had a season like this in my hockey career. I've played my whole life, and to get to compete at a national level and maybe get a national title is pretty mind-boggling."
All three of the captains feel honored to be a part of a team that is doing so well and one that is making a big name for Altoona ice hockey. "This is a great group of guys, and there has been nothing better than getting ready for nationals," said co-captain Jeff Hagan, a sophomore from West Chester. "From the beginning of the season, this was our goal. We've been working step by step and to know we are going to finish what we set out to do, there are no words to describe it. Just to make it this far is an accomplishment in itself, and I am so proud."
Lantz knows there will be tough competition at nationals, but he believes his team has hit its peak. If players can continue their stride, perform as they have over the last few months, and stay focused, they stand a great chance of winning. "This shows how far our hockey program has come and also shows off the talent and skill of these kids. They put in so much time, and to bring home Penn State Altoona's first national title would be huge," he said.
Team members know they will be playing more games in a shorter amount of time, so they will be tired and sore. But they also realize this is the big time and they will have to leave every last bit of themselves on the ice. "It would mean the world to us and so many other people," said Gricco. "We have so many others who put a lot of work into this like our coach, our student coach, our managers, the stats guy who follows us around, and our equipment manager. We get so much support that I feel like it would be a big win for more than just us as players."
The team will play two seeding games Friday against Union and California Lutheran University, then move into the playoff rounds.
"This is what we live for," Gricco said. "We've been talking for months about how we don't want it all to end and what a great ride we have had. I wouldn't trade this experience and these memories for anything."