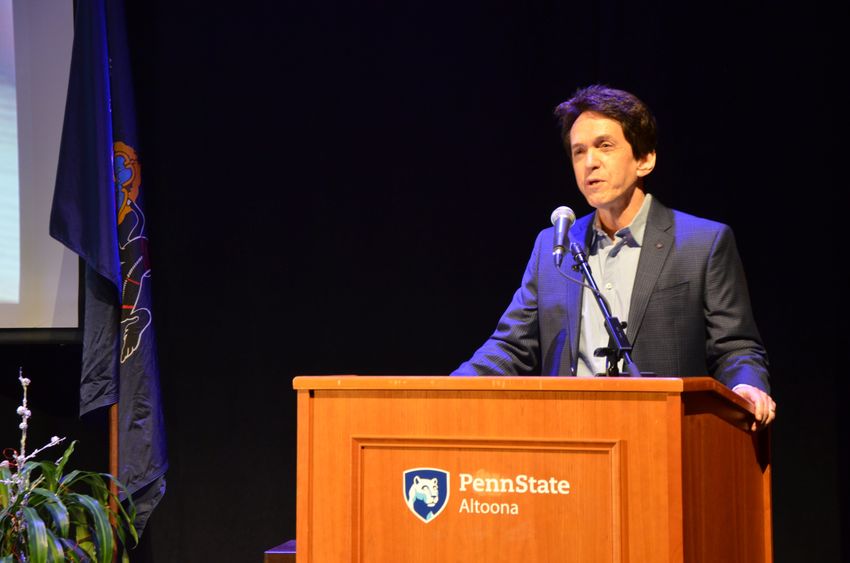 Mitch Albom, best-selling author and sports journalist, spoke on campus as part of Penn State Altoona's Distinguished Speaker Series on Dec. 3.
Albom's newest book, "Finding Chika: A little girl, an earthquake, and the making of a family," was the focus of the presentation. Albom shared with the packed audience the true story of Chika Jeune, a Haitian orphan at the Have Faith Haiti Mission & Orphanage run by Albom and his wife. At five years old, she developed a brain tumor, and doctors said there was no hope of treating it in Haiti. The Alboms brought her to the United States, and over the next two years, while searching for successful treatment, she became a permanent part of their lives. Albom called their trio an unlikely family—a couple in their 50s now parents to a five year old.
"What we carry is what defines us. For so many years I carried papers and books and accomplishments. And now, suddenly in my late 50s I was carrying a child. And it was the most important and most blessed burden that I've had to carry. She taught us how to be a family, and she taught me there is no 'one way' to make a family."
Jeune passed away in 2017.
Albom compared the story of Jeune to that of Morrie Schwartz, the subject of his best-selling memoir "Tuesdays With Morrie." He says both the 78-year-old Schwartz and young Jeune opened his eyes to parts of life he wasn't seeing.
"You can be taught by anybody. The old and the young can illuminate life for you. Both in their dying taught me about living. It is only in witnessing the last breaths of a life that you truly appreciate the magnificent, indescribably blessing that being alive is."
"Tuesdays with Morrie" became an international phenomenon with more than 14 million copies sold. Now in its 20th year, it remains one of the top-selling memoirs of all time. Albom is the author of eight other bestselling books, with five debuting at number one on the New York Times Best Sellers list. "Finding Chika" was published in 2019.
Albom has founded 10 charities, including nine in the Detroit area, such as S.A.Y. Detroit, which operates a family health clinic; A Time to Help, a volunteer organization; and A Hole in the Roof Foundation, which repairs faith-based homeless shelters. He also directs the Have Faith Haiti Mission in Port Au Prince, which helps impoverished children and orphans, as well as the Chika Fund, which provides life-saving medical funding and health care.
A columnist for the Detroit Free Press since 1985 and a panelist on "The Sports Reporters" podcast, Albom has been named the top sports columnist in the nation by the Associated Press Sports Editors (APSE) 13 times. In June 2010 he received the APSE Red Smith Award for lifetime achievement — the biggest prize in sports journalism — and in June 2013 he was inducted into the Sportswriters Hall of Fame.