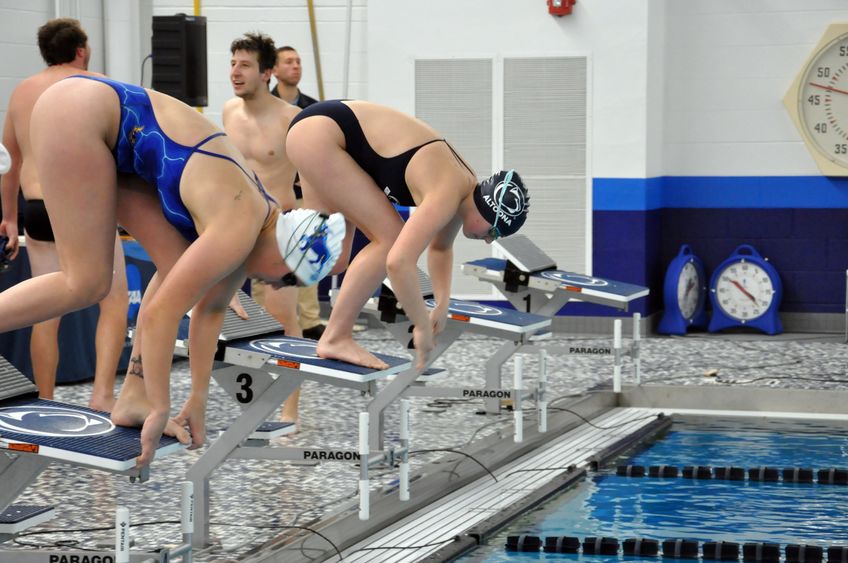 Men's basketball
Penn State Altoona 68, Juniata College 66
Sophomore guard Jack Kusters (Quakertown, Pennsylvania/Lansdale Catholic) helped lead the Lions to a win in their home opener over Juniata on Saturday, Nov. 16, by scoring a team-high 16 points while adding three rebounds and two assists.
Men's swimming
Alfred State College 136, Penn State Altoona 112
Freshman Isaac Swanson (Clearfield, Pennsylvania/Clearfield) picked up two first place finishes in Saturday's home opener against Allegheny Mountain Collegiate Conference opponent Alfred State, and he also set a new team record. Swanson won the 200 Yard Freestyle with a time of 1:48.11, and he also placed first in the 200 Yard IM with a time of 2:02.73. The freshman set a new Penn State Altoona men's swimming record in the 100 Yard Backstroke, finishing in 54.60 to place second in the event.
Women's basketball
Penn State Altoona 82, Geneva College 63
Saint Vincent College 108, Penn State Altoona 83
Junior guard/forward Alexis Cannistraci (Tyrone, Pennsylvania/Tyrone) averaged a team-high 20.5 points per game in the Lady Lions' first two games of the season last week, and she also averaged 8.5 rebounds per game, 3.5 steals per game, 3.0 assists per game, and 1.0 block per game.
Women's bowling
Penn State Altoona 691, Pitt-Bradford 663 (Five-game baker)
La Roche University 680, Penn State Altoona 603 (Five-game baker)
Saint Vincent College 791, Penn State Altoona 621 (Five-game baker)
La Roche University 4, Penn State Altoona 2 (Best-of-seven baker)
Penn State Altoona women's bowling picked up its first win of the 2019-20 season in its home quad match on Sunday, Nov. 17, defeating AMCC opponent Pitt-Bradford while rolling down a season-high 691 pins.
Women's swimming
Alfred State College 124, Penn State Altoona 90
Freshman Grace Dangelo (State College, Pennsylvania/State College) had four of Penn State Altoona's seven first place finishes in Saturday's loss to AMCC opponent Alfred State in the Lady Lions' home opener. Dangelo earned first place finishes in the 100 Yard Butterfly (1:00.29), the 100 Yard Breaststroke (1:11.95), the 500 Yard Freestyle (5:26.88), and the 200 Yard IM (2:15.55).
Women's volleyball
Grove City College 3, Penn State Altoona 0
Freshman outside hitter Jenna Bauer (Ebensburg, Pennsylvania/Central Cambria) put up 10 kills, 13 digs, two solo blocks, and two block assists in Penn State Altoona women's volleyball's loss at Grove City on Wednesday, Nov. 13, in the first round of the Eastern College Athletic Conference Division III Championship Tournament.