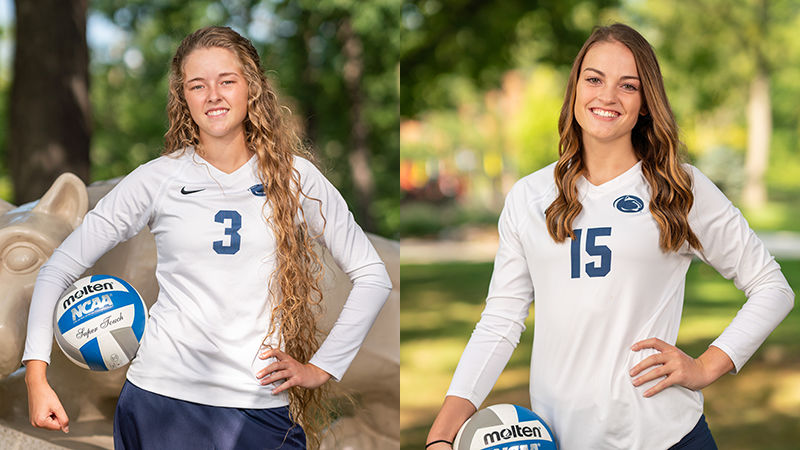 NORTH BOSTON, N.Y. — A pair of Penn State Altoona women's volleyball freshmen have been selected to the All-Allegheny Mountain Collegiate Conference team, which was announced on Wednesday morning.
Freshman outside hitters Lydia Mock (Alum Bank, Pennsylvania/Chestnut Ridge) and Jenna Bauer (Ebensburg, Pennsylvania/Central Cambria) were each voted to the second team of the AMCC All-Conference squad, with Mock also being selected the conference's Newcomer of the Year.
Mock and Bauer are two of only three total freshmen who were voted to this season's All-AMCC team. The first-year duo stepped right into the starting lineup this season and combined to power the Lady Lions' offense on the outsides, while also showing themselves to be strong defensive players.
In the conference this fall, Mock ranks eighth in digs per set (3.93), 11th in digs (287), kills per set (2.44), and points per set (2.91), 20th in kills (178) and total points (212.5), 25th in hitting percentage (.149), 26th in assists (34) and service aces per set (0.32), 27th in solo blocks (5), and 31st in aces (23). The freshman leads her team this season in digs and digs per set, is tied for first in points per set and kills per set, and is second in kills, aces, and aces per set.
Mock played in 22 of Penn State Altoona's 24 matches this season, appearing in 73 total sets. During the season, she was named the AMCC Player of the Week once.
Mock becomes just the fourth Penn State Altoona women's volleyball player in program history to be voted the AMCC Newcomer of the Year. Amber Fulmer and Beth Hudish shared the honor in 1999, while Robin Tabaka received the recognition in 2011.
Bauer ranks eighth in the AMCC this season in points per set (2.94), 10th in kills per set (2.44), 12th in hitting percentage (.194), 13th in digs (280) and digs per set (3.41), 14th in kills (200) and points (241.5), 17th in block assists (23), 21st in solo blocks (9), 23rd in total blocks (32), 26th in blocks per set (0.39), 33rd in assists (23), and 36th in aces (21).
Bauer played in all 24 matches this season for the Lady Lions, appearing in 82 out of a possible 83 sets.
Penn State Altoona women's volleyball received a berth to compete in the Eastern College Athletic Conference Division III Championship Tournament, which opens this Wednesday, Nov. 13, when the Lady Lions traveling to play Grove City College in a first-round match starting at 7 p.m.