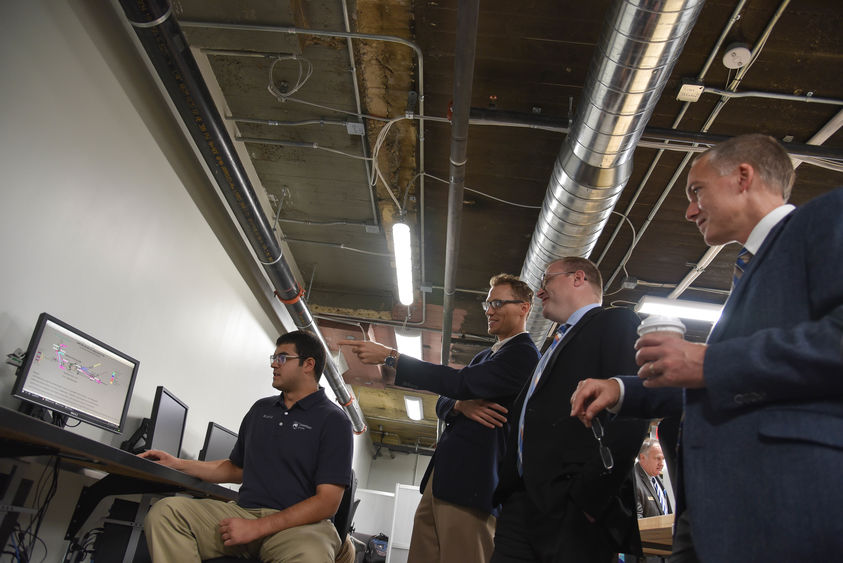 ALTOONA, Pa. — To help prepare the next generation of rail signaling engineers and operators gain experience in safely managing passenger and freight rail traffic, Pittsburgh-based Hitachi Rail STS USA partnered with the Rail Transportation Engineering (RTE) program at Penn State Altoona to donate a MicroLok Wayside Control System, equipment used to perform vital and nonvital management of signaling systems.
Representatives from Hitachi visited the college's RTE labs on Sept. 13 to meet with students and faculty and discuss the gift and the industry's need for trained workers.
"Our gift to Penn State Altoona symbolizes both our corporate social responsibility and a shared determination to add more talent to this industry," said Douglas Peel, head of wayside engineering at Hitachi Rail STS USA. "We value the work Penn State Altoona is doing to grow this program and provide students with real-world tools and experiences along the way."
MicroLok is a complete railway signaling system that includes training modules. Stephen Dillen, assistant teaching professor of electrical engineering, said the system will be used in upper-level courses on railroad communications and signals.
"Students will see how rail interlocks are controlled and understand the complex levels of redundancy and safety necessary for the secure travel of people and rolling stock," Dillen said. 
More than 144,000 miles of track supports the economy of the United States, with the freight industry investing more than $25 billion each year to improve the rail network. Freight, passenger and metro rail operators will continue to add advanced technology to the rail networks they operate and assets they maintain, creating extensive opportunities for rail and signaling engineers in the workforce. Penn State Altoona's RTE program, the only bachelor of science degree program of its kind in the nation, prepares students with the in-depth engineering and mathematics education to meet the demands of the industry.
Safety is a top priority in the railroad industry, and signaling systems allow trains to communicate with each other.
"The signaling system is the most important aspect to rail lines and helps them operate safely," said Jonathan Ambrosino, a junior RTE major from Los Angeles.
Ambrosino said he looks forward to using the MicroLok for learning "to program signals and get familiar with signaling concepts," and to keep trains, their passengers, and their cargo far enough apart so everyone reaches destinations safely.
With the addition of the Hitachi Rail STS MicroLok, students will have direct access to marketplace systems for in-depth training and real-world application of train control signaling systems, processes and procedures.
"Every day, all around the world, the people of Hitachi Rail STS are hard at work helping customers solve the most complex transportation challenges. Our growing U.S. mobility business is part of a globally integrated total rail solutions provider with expertise across rolling stock, signaling and turnkey, operations, service and maintenance," said Peel. "There is strong demand, particularly in the U.S., for engineers, software developers and project managers. We applaud Penn State Altoona's efforts to train the next generation of engineers."
The Hitachi Rail STS MicroLok II Wayside Control System combines the functions of railway signaling and control and is currently used on mass transit, metro, main lines and freight applications. Inside what looks like an ordinary metal cabinet is advanced technology that can monitor multiple lines of railroad track and crossings to efficiently move people and freight toward their intended destinations. The system performs key functions, including train detection, track circuit integrity, coded track circuit communication, cab signaling code generation and event recording. It also includes a vital interlocking code and a code system for nonvital control and indications.  
With more than 4,200 employees in 31 countries, Hitachi Rail STS works with rail providers and suppliers in passenger rail, freight transportation networks providing traffic management, train control, signaling systems and maintenance services.
This gift from Hitachi Rail STS will advance "A Greater Penn State for 21st Century Excellence," a focused campaign that seeks to elevate Penn State's position as a leading public university in a world defined by rapid change and global connections. With the support of alumni and friends, "A Greater Penn State" seeks to fulfill the three key imperatives of a 21st century public university: keeping the doors to higher education open to hard-working students regardless of financial well-being; creating transformative experiences that go beyond the classroom; and impacting the world by fueling discovery, innovation and entrepreneurship. To learn more about "A Greater Penn State for 21st Century Excellence," visit greaterpennstate.psu.edu.