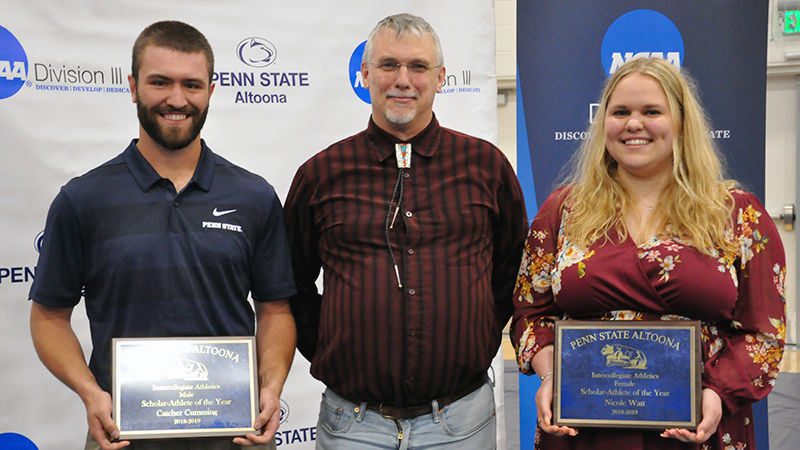 ALTOONA, Pa.—Penn State Altoona Athletics announced its 2018-19 Male and Female Scholar-Athletes of the Year on Sunday, April 28 at its annual Intercollegiate Athletics Honors Banquet.
Junior baseball player Catcher Cumming (Altoona, PA/Altoona) took the Male Scholar-Athlete of the Year honor, while senior bowler Nicole Watt (Altoona, PA/Bishop Guilfoyle) was named the Female Scholar-Athlete of the Year. The Scholar-Athlete awards are the highest individual recognitions given at Penn State Altoona's annual athletics honors ceremony, presented to one male and one female student-athlete who demonstrate excellence both in their respective sports and in the classroom.
Catcher Cumming (Junior, baseball)
2018-19 Penn State Altoona Male Scholar-Athlete of the Year:
Penn State Altoona's Catcher Cumming, a junior first baseman on the baseball team, was chosen as the department's 2018-19 Male Scholar-Athlete of the Year.
Cumming has had an exceptional season for the Lions baseball team, helping his squad to a 26-14 overall record that included a 12-6 mark in the Allegheny Mountain Collegiate Conference. The team earned third place in the conference's regular season standings and is in the midst of the AMCC Tournament's final four.
In the AMCC this season to date, Cumming ranks sixth in home runs (6) and runs batted in (39), 10th in slugging percentage (.563), 15th in runs scored (33), 16th in total bases (67), 17th in walks (19), 22nd in doubles (8), 25th in hits (39), and 26th in batting average (.328) and on-base percentage (.426).
This season, Cumming has been named the AMCC Player of the Week, as well as taking national honors with an appearance on D3baseball.com's Team of the Week. Among Cumming's highlights from the spring was setting a team record for the most RBI in a doubleheader (12) during a pair of wins against Hilbert College on Sunday, April 7.
In the classroom, Cumming has excelled since transferring to Penn State Altoona in 2017 after one year at Division II Pitt-Johnstown. The junior holds a 3.82 GPA and is a Business major, with a concentration in Marketing and Management. Cumming also plays on the campus' men's club ice hockey team.
"Catcher isn't the most outspoken, but he leads by example and never takes a pitch off," said Penn State Altoona baseball head coach RJ Barnard. "He gives 110 percent day in and day out, and he plays the game the way it is meant to be played. He has been a two-year member of our baseball program and the club hockey team, and he is an exceptional example of a student-athlete at Penn State Altoona."
Cumming is a native of Altoona, Pa. and is a graduate of Altoona Area High School.
Nicole Watt (Senior, women's bowling)
2018-19 Penn State Altoona Female Scholar-Athlete of the Year:
Penn State Altoona senior women's bowler Nicole Watt was selected as the department's 2018-19 Female Scholar-Athlete of the Year.
Watt capped her four-year career with the Lady Lions bowling program by putting together a strong senior campaign on the lanes. She was voted to the second team of the AMCC's All-Conference team at the conclusion of the 2018-19 season, during which she averaged a team-high 154.2 per game in traditional team format matches, as well as a team-best 16.13 baker average in baker matches.
Watt recorded Penn State Altoona's highest score of the season on January 26, when she dropped 214 pins in a match during the Saint Francis University Red Flash Invitational. Her score of 214 that day ranked as the fourth-best score in a traditional game in program history.
Watt's best baker average of the 2018-19 season came during the AMCC Round Robin #1 weekend on February 2-3, when she compiled a two-day baker average of 17.18. That mark is tied for the eighth-best baker average in an event in team history.
Watt posted a 3.75 GPA as an Accounting/Business major at Penn State Altoona. She has served her fellow student-athletes, as well as the Altoona community, by being an active participant on Penn State Altoona's Student-Athlete Advisory Committee.
"Nikki has been the heart and soul of the women's bowling program for the past four years, standing by the program during the ups and downs while sporting a smile on her face," said Penn State Altoona head women's bowling coach John Carey. "Her accomplishments, both on the bowling lanes and off of them, make her the ideal recipient of the Female Scholar-Athlete award."
Watt is a native of Altoona, Pa. and graduated from Bishop Guilfoyle High School.