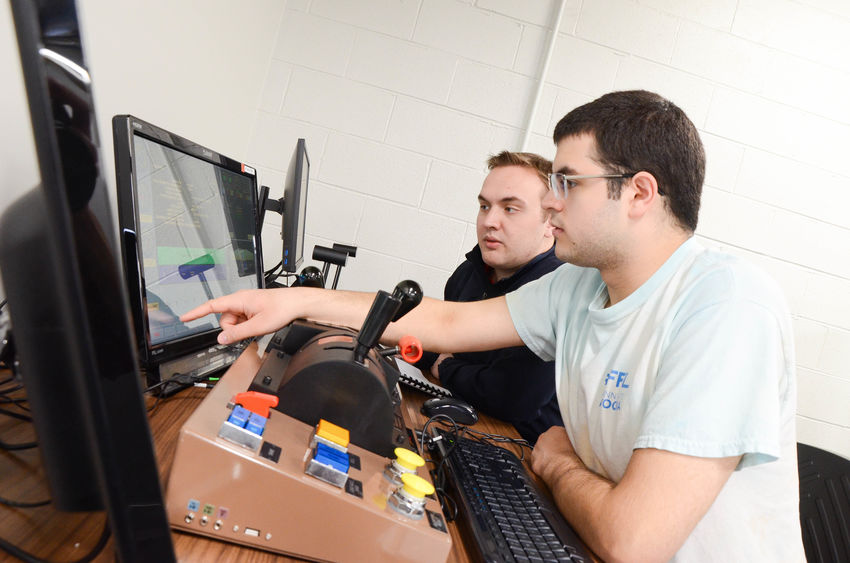 ALTOONA, Pa. — In its eighth year, Penn State Altoona's bachelor of science degree program in rail transportation engineering (RTE) remains the only one of its kind in the country. Having met the standards set by the Accreditation Board for Engineering and Technology (ABET) in goals, objectives and educational outcomes, students graduating from this program are prepared and eligible to take the Fundamentals of Engineering Exam, the first step toward becoming a professional licensed engineer. 
It's not difficult to understand why the RTE program has become a success. It provides in-depth teaching and hands-on course work by experienced faculty who have both worked in the rail industry and continue to conduct research in the field. The program also offers immersive learning and out-of-the-classroom opportunities, plus support from an active advisory board, and freight and passenger railroad, suppliers and consulting companies.  Finally, the 100-percent job placement rate is a big draw for students.
Laying the program tracks
Launched in 2011, the RTE degree prepares undergraduate students for the railway industry as engineering designers, managers and professionals in various aspects of the railway, including civil engineering; mechanical and signal operations; railroad track design and maintenance; railway construction management; and railcar and locomotive design and maintenance.
The program grew out of a need to fill vacancies in the industry from managers and upper-level employees retiring over the last decade. Railroads, consulting companies, and even state legislators approached Penn State Altoona with the idea of building this program and beginning to supply the workforce development gap with engineering professionals in the railroad industry.
An advisory board was created, comprised of diverse, high-level professionals from various sectors of the railroad industry.
"They've been crucial to the development and growth of the program by guiding the curriculum and providing in-kind support and funding," said Bryan Schlake, instructor in RTE.
"We know that a rail-specific engineering program will generate graduates who meet the requirements of today's railroad industry," added Gerhard Thelen, former vice president of Norfolk Southern operations planning and support. "This program provides the basic and advanced skills and education for a successful lifetime career and is the source of tomorrow's leaders."
Building on a mathematical and engineering foundation, students also have numerous opportunities for hands-on experience in labs, field instruction, and research.
Living laboratory
Altoona, rich in railroad history, is the perfect home for the RTE program. The city was founded in 1848 by the Pennsylvania Railroad as a hub for its expanding railroad empire and center of its research and testing activities. Today, Altoona is a major center on the Norfolk Southern Railroad's Pittsburgh Line. The Juniata Locomotive Shop, originally built by the Pennsylvania Railroad, is the railroad's largest repair and maintenance facility. Amtrak also trains serves Altoona daily via its Pennsylvanian service.
"We have a living railway laboratory of sorts here with a major Class I railroad coming through town, which we can see from our classroom space and our offices," says Schlake. "There are also multiple short line railroads we partner with for research and various lab exercises."
Students get their hands dirty with in-depth, practical, hands-on courses called "practica" that cover railroad track infrastructure, railcars and locomotives, and railway transportation and network operations. Students in the Railroad Mechanical Practicum course measure freight car loads at Norfolk Southern's Rose Yard using both manual tools and the laser-based tool "SafeLoad." In this course, students also learn about the science and practice of welding using a virtual welder trainer and actual MIG and stick welding machines. In the Railroad Track Location, Construction and Maintenance course, they measure track curvature and gradient on track provided by the Everett Railroad Company. Finally, in the Operations Practicum course, students learn to design railway networks and measure network capacity using "Rail Traffic Controller," a dispatch simulation software by Berkeley Simulation Software, LLC.
"It's great to have so many hands-on classes, labs and experiences," says Brandon Hilton, a junior. "Having those opportunities helps us gain the skills and knowledge we will need when we go into the field."
"This program provides the basic and advanced skills and education for a successful lifetime career and is the source of tomorrow's leaders."

— Gerhard Thelen, former vice president of Norfolk Southern operations planning and support
Even within the classrooms, students are using cutting-edge equipment that helps keep them on the forefront of the rail industry's needs.  
Most recently, an in-kind gift from PS Technology (PST) was added to the lab space. The gift is a 12-month equipment lease of a Positive Train Control (PTC) Prime Simulator to support the RTE program's Teaching Railway Applications through Immersive learning and Network Simulation (TRAINS) laboratory. The simulator helps students more thoroughly understand the real-world implications and requirements of PTC utilization. It includes self-guided training and interactive locomotive simulations based on specific training scenarios which expose students to the engineer-operations focus of the Federal Railroad Administration PTC requirements. The system automatically instructs, scores and records the training results of the students.
In 2017, RTE was awarded a $15,000 education grant from the National Railroad Construction and Maintenance Association to purchase 360-degree virtual-reality equipment. This laid the groundwork for the launch of what is now the TRAINS lab, the first university-based Virtual Education Lab in the railway industry.
Currently, the TRAINS lab has the locomotive simulator from PST; both the Oculus Rift and HTC Vive systems; Oculus Go and Google Daydream headsets; and a Samsung Gear VR platform. The lab also includes a virtual welder trainer for students to practice shielded metal arc and gas metal arc welding in the Railroad Mechanical Practicum course.
"Most of the simulations that we do are with track and welding," stated Michael Yohn, a junior in the program. "We can build an entire railroad in the simulation and receive diagnostics from the railroad itself to see how it's running. It's a really cool piece of equipment."
The virtual reality initiative led to a travel-abroad experience during the summer of 2018. Schlake, along with Joe Scott, instructional designer at Penn State Altoona, and a group of students from the RTE program, recorded 360-degree videos at various railroad locations in Germany, Switzerland and Austria. Funding for this trip was provided by Leica Geosystems, a Hexagon Company. While in Europe, students collected videos of the trains, railroads, yards and terminals, as well as footage from the operator's cab on several trains. Once back on campus, Scott helped Schlake and the students develop 360-degree video content showing various European railway applications. These videos are available on the Penn State RTE YouTube channel.
There are more things in the works for the TRAINS lab, including implementation of simulated signal systems equipment and advanced track modeling software. 
Besides course work and a major-specific capstone project in their senior year, students have a multitude of supplemental learning at their fingertips.
They can join the Penn State Altoona chapter of American Railway Engineering and Maintenance-of-Way Association (AREMA), which allows them to connect with other engineering students across the country and network with industry professionals through seminars, speakers and field trips. One such trip students experienced was a tour of Amtrak's Northeast Corridor from Baltimore to New York City on one of Amtrak's geometry cars.
The AREMA Annual Conference and the Joint Rail Conference each offer opportunities for students to learn about the latest developments in rail transportation and time for networking with professionals in the industry. The Railroad Industry Exchange (RRIX) Conference, sponsored by Penn State Altoona and first held on campus in 2018, also provides similar opportunities. The Women in Engineering Design (WE-Design) Competition sponsored by Norfolk Southern and engineering-business case competitions sponsored by Norfolk Southern and Curry Rail Services have also allowed students to test their engineering skills and win scholarship money.
Another draw for students at Penn State Altoona is the opportunity to conduct graduate-level research with faculty mentors. The RTE program is part of the U.S. Department of Transportation's 2017 Region 3 University Transportation Center, a multi-university research program led by Penn State and totaling $14.17 million in federal funding and a matched amount in non-federal funding anticipated. Additionally, RTE faculty have been awarded various individual public and private research grants that have helped advance the state of railway engineering.
Areas of ongoing research at Penn State Altoona include civil infrastructure such as railroad ties, ballast, and subgrade; train-track interaction; railroad rolling stock safety; alternative fuel technology; locomotive emissions and fuel efficiency; data analytics for railroad safety; and railway cyber security. Several students have presented their research findings at national conferences and published technical papers in conference proceedings. They've also shared their research at Penn State Altoona's Undergraduate Research and Creative Activities Fair.
Investing in the future
Schlake said investing in Penn State Altoona's RTE program, as a student, employee or supporter, is investing in a solid future. He stated that students in the program are pre-qualified for the rail work force.
"They are and will be invested in the railway industry," said Schlake. "Companies looking to hire can expect our students to stick with the railroad industry for the long haul."
Because of the commitment Penn State Altoona students have to the industry and the strength of the RTE program, companies are actively recruiting from the college. The program boasts a 100-percent placement rate, and in fact, many students already have job offers before they have formally graduated. Some of the companies that have hired RTE graduates include AECOM, ARUP, Amtrak, BNSF, Conrail, CSX Transportation, GW Peoples, Norfolk Southern, Siemens, Union Pacific, UTLX, Trainyard Tech LLC., and WPS.
"RTE is not a program for people who just love trains. It's a program for people who want a career in a demanding but rewarding industry. It's challenging, and they aren't easy jobs, but they are jobs that will reward you for the effort you put into them."

— George Mukai, 2015 Penn State RTE graduate
Almost all students also work as summer interns at various railroads, contractors, and consulting firms while they are completing their degree.
"Graduates of the RTE program have all been involved in real-world situations," says Lisa Stabler, president of Transportation Technology Center, Inc., and RTE Advisory Board member. "They understand and have the tools they need to be successful, so it's a great marriage to companies looking to recruit employees with those qualities."
Luiz Almeida graduated in 2018 after interning with Norfolk Southern and Arup and currently works as a graduate rail engineer for Arup, an international engineering firm.
"My boss is a Penn State graduate himself," said Almeida. "He was looking to hire from his alma mater and exclusively looking for students who had gone through rail-related programs like Altoona's. It's such a cool thing that companies are actively seeking us out."
Shelby Stigers, a 2015 graduate who works for Siemens as a wayside design engineer, sees the rail industry continuing to grow, and with it, the RTE program.
"I think rail will always be strong, there's too much infrastructure for it not to be, and the population is too large for commuter rail to go away," said Stigers. "I see a future of more high-speed rail and maintenance of systems."
George Mukai, also a 2015 graduate, is pleased with his experience at Penn State Altoona and fulfilled in his current work as a roadmaster for BNSF Railway in Denver.
"RTE is not a program for people who just love trains. It's a program for people who want a career in a demanding but rewarding industry," said Mukai. "It's challenging, and they aren't easy jobs, but they are jobs that will reward you for the effort you put into them."
Almeida believes there is much more to come from the RTE program and hopes to be able to contribute to its growth.
"I want to come back some day and see it all," said Almeida. "I want to ask the students, 'how is it going, how can I help?' I owe my career to the program, and I'd love pay it forward."