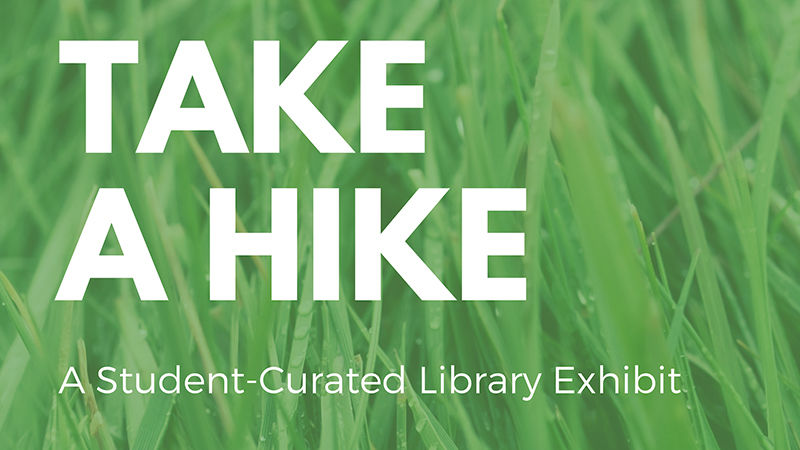 A new student-curated exhibit at the Eiche Library showcases nature writing from the library collections and original student artwork for the month of April. The exhibit commemorates Earth Day on April 22 as well as National Parks Week, April 20-28.
Students from the Environmentalist Coalition conducted research in order to create a bibliography of print resources including nonfiction, fiction, and poetry ranging from the nineteenth century to the present. They also included texts written by Penn State Altoona professors Brian Black, Todd Davis, and Ian Marshall. In addition, the students collected a list of electronic resources that are featured on an iPad kiosk accompanying the display.
Original watercolor paintings by environmental studies major Anthony Michael Koehle III supplement the exhibit. Koehle, who serves as the vice president of the Environmentalist Coalition, says, "Our goal is to bring the community, classmates, and the woods together. Casey Weber and Jordan Wolfkill were a big help in pulling this project together. Our motto is, 'we like huggin' trees and savin' bees.' Weber, president of the Environmentalist Coalition, is majoring in environmental studies, while Wolkfill, the president of Tri-Beta Honor Society and Biology Club, is a biology major.
Jessica Showalter, student engagement and outreach librarian, states, "The students in the Environmentalist Coalition showed initiative, creativity, and professionalism when they curated this exhibit. This collaboration is an important resume-building experience for them. We are excited about giving students the opportunity to be active partners here at the library. In the future, we will invite more students to present their scholarship and creative work."