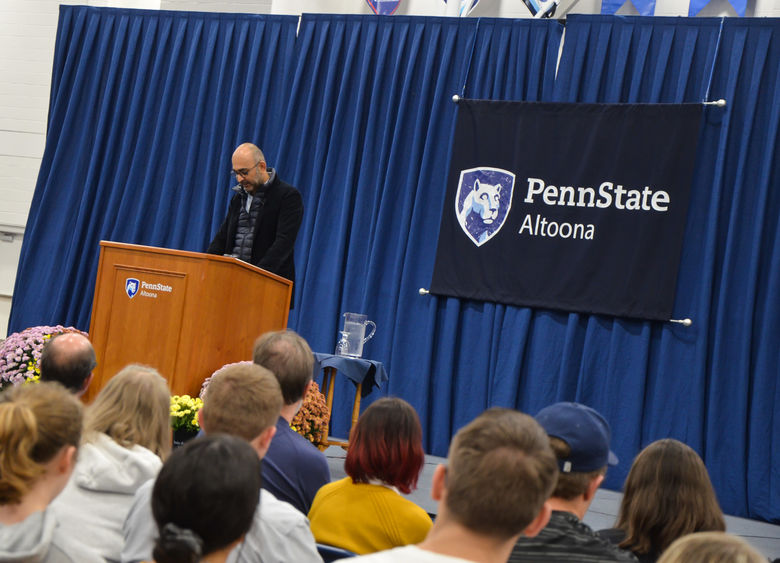 ALTOONA, Pa. — "The income and career prospects of writers isn't great. Like any career in the arts, it's full of uncertainty and luck. That said, if you need to write, and you don't, if you don't pursue the thing you love and that gives your life meaning and that you're passionate about, it can be just as bad or worse than being impoverished. It's a different kind of impoverished."
— Mohsin Hamid, author, offered his advice to budding writers at Penn State Altoona's Distinguished Speaker Series event, held Sept. 25.
Hamid is the author of four novels: "Moth Smoke," "The Reluctant Fundamentalist," "How to Get Filthy Rich in Rising Asia," and "Exit West." "Exit West" is this year's Common Read selection at Penn State Altoona. Hamid writes regularly for The New York Times, The Guardian, and The New York Review of Books. He has lectured at dozens of universities around the world, from Stanford and Yale to the London School of Economics and the National University of Singapore. In 2013, Foreign Policy magazine named him one of the world's 100 Leading Global Thinkers.
"I think it's good to be pragmatic about a career in writing," said Hamid. "I think it's worthwhile to see how much it matters. If it matters enough and you're not happy not doing it, then build a life that lets you do it. You should approach it with real world context, which is to say, how are you going to make it work, and that means you need to find a way to make a living. You will need to find a way to support yourself while you write, whether that's writing full-time or teaching and writing, whatever. In my case it was working in consulting part-time. I didn't get to write full-time until about two decades after my first novel.
"But I think writing is a relationship, and one should never destroy a relationship by insisting that relationship meet every single one of their needs. So combine pragmatism of how to support yourself with the fact that the arts are to be venerated and loved and pursued."