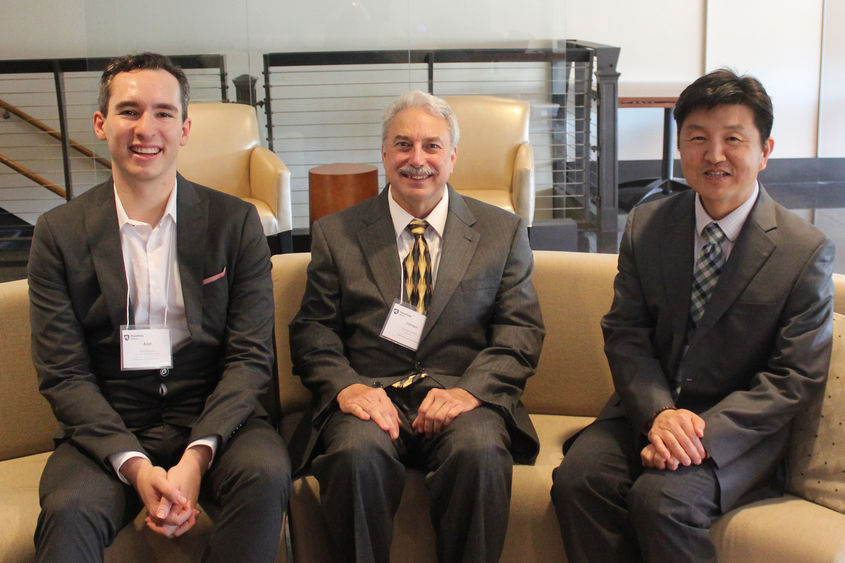 ALTOONA, Pa. — Datric Inc. has gifted its Agile Data Suite - Enterprise Ontology Management System (ADS-EOMS) to Penn State Altoona. Valued at $1.6 million, the three-year subscription license for ADS-EOMS will provide users with the ability to act as developers who are able to make changes and updates as they work their respective business intelligence models.
Students enrolled in programs within Penn State Altoona's Division of Business, Engineering, and Information Sciences and Technology and in Information Sciences and Technology courses across the University will benefit from use of this software.
James "Jim" Griffin, president and CEO of Datric, learned about a National Science Foundation (NSF) data science project at Penn State Altoona, Building a Big Data Analytics Workforce in iSchools, through Datric's sales director, Dave Palmer, last spring. The project is led by its principal investigator, Jungwoo Ryoo, head of the Division of Business, Engineering, and Information Sciences and Technology and professor of information sciences and technology.
"What started as a sales call, quickly turned into an exciting opportunity," said Griffin. "Dave's comment at the time was, 'Jim, he sounds just like you. You have to talk to him.' In Dr. Ryoo, we found a kindred spirit who understands the complexities of data from a holistic perspective."
A series of demos and discussions took place between Ryoo's team and Datric, said Griffin. "We were of like minds on the issues and limitations of current methodologies and I thoroughly enjoyed the discussions with the team. It was an easy decision to support the program with the gift of an ADS license. Over the course of more discussions, we made the decision to gift the license for three years for use across all Penn State campuses. Increasingly complex businesses, systems, international trade and data security regulations are challenging. ADS-EOMS is a holistic, simple, and visual approach to understanding relationships between people, processes, data, and time without boundaries across an enterprise."
"Our students can benefit tremendously from using this software especially in the area of business intelligence. It is not easy to incorporate industrial-strength software tools in academic courses due to their licensing costs, but with the help of Datric, we can bring real-life business challenges and solutions to our classrooms," Ryoo stated. "We are lucky to have such a generous partner like Datric, and I am looking forward to working with them to develop course modules to educate and prepare our students for career paths in data science through the NSF project I am leading."
"We hope this is just the beginning of a continued partnership between Datric and Penn State," Griffin said. "We will benefit from the best thinking in academics, and Penn State has access to a lifetime of practical experiences with our team. Together we can provide a better education for the next generation of data scientists."
Datric Inc. was founded in 2000 in Charlotte, North Carolina. The company provides functional consulting, application and system design, data integration and data warehousing solutions for customers of SAP (Systems, Applications & Products), a German-based European multinational software corporation. Datric specializes in providing small, highly experienced, and cross-functional teams to dramatically reduce the time and cost to progress from design to productive operations. Its client list includes global firms such as Bayer, BlackBerry, GE Aviation, Hewlett Packard, Lenovo, PepsiCo, Phillip Morris USA, Schaeffler, The Hershey Company, and Teradata. ADS-Medical is Datric's medical metadata repository software application with standards-based term glossary, processes, documents, and linkage to multiple medical regulatory control requirements.
Datric's gift will advance "A Greater Penn State for 21st Century Excellence," a focused campaign that seeks to elevate Penn State's position as a leading public university in a world defined by rapid change and global connections. With the support of alumni and friends, "A Greater Penn State" seeks to fulfill the three key imperatives of a 21st-century public university: keeping the doors to higher education open to hard-working students regardless of financial well-being; creating transformative experiences that go beyond the classroom; and affecting the world by fueling discovery, innovation and entrepreneurship.
To learn more about "A Greater Penn State for 21st Century Excellence," visit greaterpennstate.psu.edu.