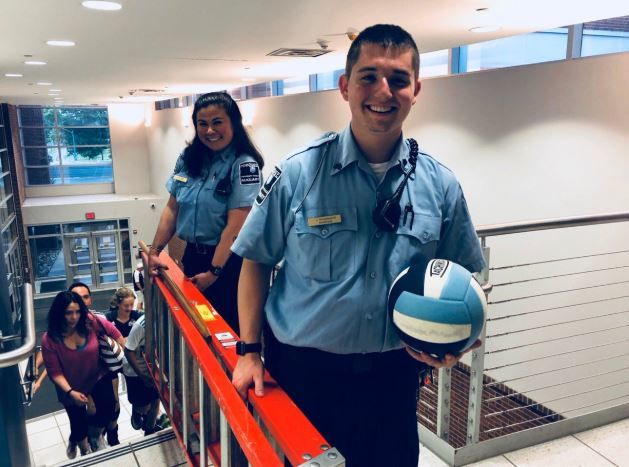 UNIVERSITY PARK, Pa. — Through a unique division within Penn State University Police, students support police officers with various security and traffic control efforts while gaining important experience that prepares them for their career goals.
Student auxiliary officers are employed by University Police at Penn State's University Park and Altoona campuses.
At University Park, auxiliary officers provide security and traffic support for most University Park events, including sporting events, events in the HUB-Robeson Center, student arrival days at residence halls, and concerts and other events at the Bryce Jordan Center.
Auxiliary officers at University Park also assist with the Safe Walk program, a service designed to provide accompaniment to Penn State students, employees and visitors who may feel unsafe walking alone at night. The student officers carry police radios and walk participants to and from on-campus locations. Safe Walks are available from dusk until dawn, 365 days a year, by calling 814-865-WALK (9255).
In March, the unit received a certificate of recognition as an "external teammate" that has provided "exceptional service" to Penn State Intercollegiate Athletics.
"The Auxiliary Police program allows students to gain a variety of unique experiences while building essential skills for any profession, such as time management, situation de-escalation, and interpersonal communication," said Sgt. John Torres, supervisor of Auxiliary Police at University Park. "Students gain these critical skills while also helping University Police to maintain public safety during popular events for students and visitors."
All auxiliary officers are University employees who undergo background checks prior to hiring. Students also undergo specialized training before assisting University Police. Full-time students in any major can apply for the paid positions.
At Penn State Altoona, auxiliary officers conduct parking enforcement, traffic control, attend scheduled athletic and student-related events, and provide walking escorts.
"This program will expose students to public service while building independence and responsibility," said Sgt. Troy Johannides, supervisor of Student Auxiliary Police at Penn State Altoona. "It offers a student employee an opportunity of commitment and sense of pride while wearing a student uniform and professionally representing the Penn State University Police and Public Safety Department."
Naturally, many auxiliary officers are studying criminology or related fields with a desire to enter into law enforcement, such as Zack Mothersbaugh, who has earned the rank of student sergeant. A criminology major at University Park, Mothersbaugh hopes to one day work for the Pennsylvania State Police.
"The lessons and skills that I have acquired here will help me meet my career goals. I have made valuable contacts and learned how to deal with the public from an officer's point of view," Mothersbaugh said. "I would highly recommend this job to other students. I have made great friends and working relationships that I will use throughout my life. I really enjoy working here. There is a great work atmosphere and we still make friendships while getting the job done."
Tessa Miller, who served as a student auxiliary officer before graduating in May with a bachelor's degree in criminology and minors in global security, women's studies, and political science, is currently enrolled in a police academy. Upon graduation, she is slated to become an officer with University Police.
"The experience that I gained as an auxiliary officer was priceless," Miller said. "You are immersed into the unique law enforcement environment and you are able to learn the culture and lingo that cannot be taught in any classroom. It is a hands-on experience where you apply what you learn. I worked in the food and retail industries and also coached sports prior to this job, but none of them bolstered my interpersonal skills like the Auxiliary Police. Having this opportunity was a unique advantage when I was applying to police departments and county consortiums. Serving as a student sergeant also improved my leadership and teaching skills when it came to training new auxiliary officers."
While the Auxiliary Officer program is a draw for students interested in law enforcement careers, many student officers have other career goals. Kanako Todaro, a student sergeant who is studying human development and family studies with a minor in Spanish, has been working as an auxiliary officer since her first year at Penn State.
"My freshman year resident assistant was an auxiliary officer and told me I should apply because she knew I was looking for a job. At the time, I had actually already applied for another job, but their hours didn't work with my class schedule." Todaro said. "I applied to the auxiliary officer position because the hours are more flexible and other than the mandatory work periods we have, we get to choose when we work."
Through this on-campus job, Todaro has learned many lessons that are applicable to any profession, such as time management, effectively working with others, and situation de-escalation.
"One lesson I've learned is how to deal with stressful situations in a calm manner and how to handle the public when they may be less willing to listen to direction," said Todaro. "Sometimes during traffic shifts, people will get frustrated with the road closures we put in place as safety measures, so I have to do my best to direct them to where they need to go clearly, while being understanding of their emotions."
Aditya Nambiar, a student sergeant who is studying actuarial science in the Smeal College of Business, said the job has allowed him to acquire and understand many skills, such as communication and punctuality.
"Most students assume that they have to be majoring in criminology to apply or get selected, but many of us were not planning to work in law enforcement when we joined," Nambiar said. "This position helps students get an idea of how a workplace functions and what other issues could arise beyond the job itself. This job has taught me the importance of being nice to people and handling situations."
Students can apply for a position with the Auxiliary Police at https://psu.jobs/job/78644. Students from any Commonwealth campus can apply to work for the Auxiliary Police at University Park. Students interested in learning more about positions at University Park can call 814-863-2245. Students interested in learning more about positions at Altoona can call 814-949-5222.
About Penn State University Police and Public Safety
Established in 1926 as Campus Patrol, today Penn State University Police and Public Safety is responsible for protecting and serving more than 100,000 Penn State students, faculty and staff members, plus visitors, at 22 campuses located throughout Pennsylvania.
In 2017, Penn State centralized University Police and Public Safety by combining campus-based units into one, cohesive department under the direction of the assistant vice president for police and public safety. The unified department has roughly 135 full-time and part-time police officers, 75 non-sworn and civilian staff, and roughly 90 student employees.
University Police and Public Safety provides multiple resources and services, including police services, behavioral threat management, Clery compliance and emergency management. The department also includes a K-9 unit and Community-Oriented Policing Unit.