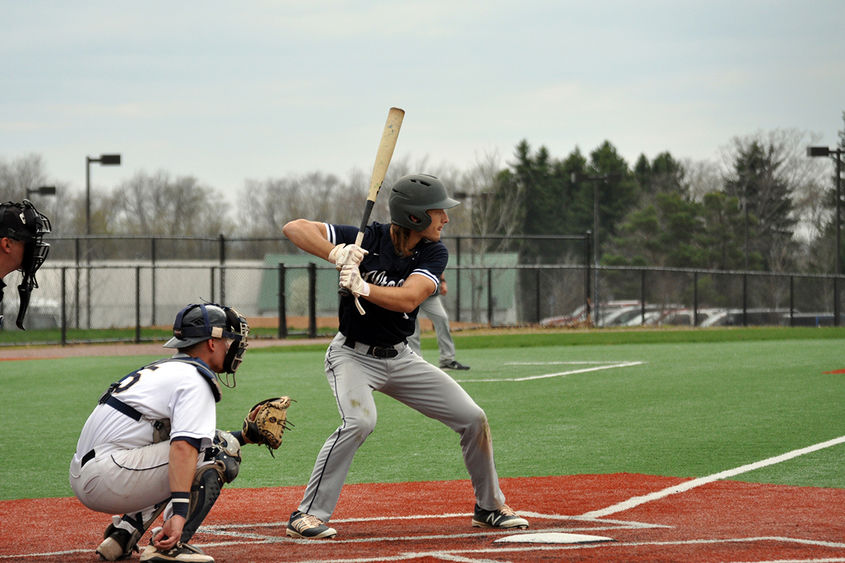 LOS ANGELES, Calif. – Penn State Altoona baseball's sophomore Peter Jacobs (Dix Hills, NY/Half Hollow Hills West) was named a first team All-American by the Jewish Sports Review in the July/August edition of its bi-monthly publication.
Jacobs is one of 16 baseball players nationwide who was selected to the first team of the JSR's 2018 All-America squad for the NCAA Division II, Division III, and NAIA levels. The sophomore slugger earned a spot on the list as a designated hitter.
Jacobs becomes the first player in Penn State Altoona baseball history to earn All-American status from the JSR. Additionally, he is just the second player in Penn State Altoona Athletics history to be named a JSR All-American first teamer in any sport.
Jacobs emerged as one of the top hitters in the Allegheny Mountain Collegiate Conference during his sophomore campaign with Lions baseball this past spring. In the AMCC, he ranked fourth in doubles (17), sixth in runs scored (44) and slugging percentage (.644), eighth in batting average (.393), 11th in total bases (87), 12th in hits (53) and on-base percentage (.468), 13th in home runs (5), 21st in RBI (29), and 28th in walks (16). In the NCAA Division III, Jacobs was 29th in doubles per game (0.47) and 41st in total doubles.
Jacobs also earned a pair of weekly awards during the season, as he was named the AMCC Player of the Week one time while also earning a spot on the D3baseball.com Team of the Week once.
The JSR is a national publication that is currently celebrating 20 years of covering Jewish athletes at all levels, including professional, college, and high school. For more information, visit the JSR online at www.jewishsportsreview.com.
Jewish Sports Review NCAA Division II, Division III, NAIA First Team All-America
Position Players
C – Nathan Littman (Gr.), Bentley
1B – Jordan Kaplan (So.), Coe
2B – Max Steinhorn (Sr.), Amherst
3B – Milo Sklar (Sr.), Oberlin
SS – Michael Wielansky (Jr.), Wooster
OF – Malcolm Nachmanoff (Sr.), Tufts
OF – David Vinsky (So.), Northwood
OF – Charles Levitt (Jr.), Swarthmore
DH – Peter Jacobs (So.), Penn State Altoona
Pitching Staff
RHP – Adam Jafine (Sr.), Charleston (WV)
RHP – Josh Cohen (Sr.), Occidental
RHP – Justin Stybel (Jr.), New Paltz
LHP – Luke Meyerson (Sr.), Rochester (NY)
RHP – Brian Auerbach (Sr.), Rollins
RHP – Jordan Friedman (Sr.), Rowan
RHP – Jake Flax (Sr.), Suffolk