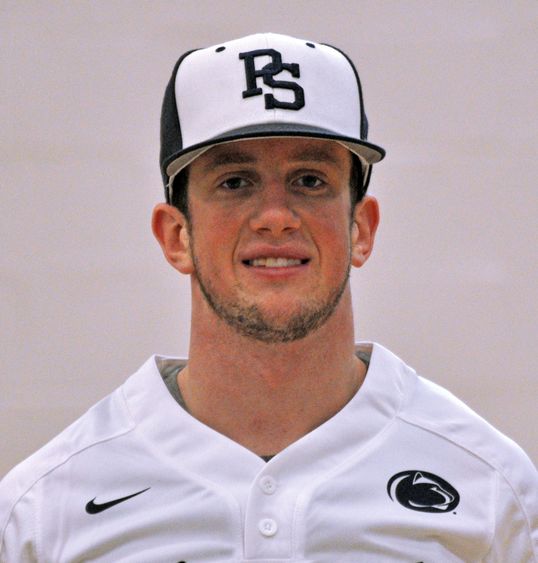 GREENSBORO, N.C. – For the second time in his collegiate baseball career, Penn State Altoona outfielder Jim Shomberg (Lansdale, PA/Methacton) has been announced as a third team Division III All-Mideast Region selection by the American Baseball Coaches Association and Rawlings ®.
Shomberg, a senior who spent his four-year collegiate career as a standout for the Lions baseball team, becomes the first player in Penn State Altoona program history to win ABCA/Rawlings All-Region honors multiple times. He was also a third team ABCA/Rawlings All-Mideast Region pick in 2016, following his sophomore season.
This marks the fifth time in Penn State Altoona baseball program history that a player has earned All-Region honors from the ABCA and Rawlings. Aside from Shomberg's two selections, the Lions baseball program has also produced one first team All-Mideast Region player (first baseman Pat McHenry in 2014) and two second team All-Mideast Region players (third baseman John Schall and starting pitcher Trevor Conner, both in 2011).
After an injury-shortened junior year in 2017, Shomberg bounced back in a big way during his senior campaign this spring. The outfielder played in all 38 games for the Lions in 2018 and was voted to the first team of the All-Allegheny Mountain Collegiate Conference squad. At the end of the season, Shomberg ranked fifth in the AMCC in runs batted in (46) and slugging percentage (.655), seventh in hits (56), doubles (15), and batting average (.403), eighth in home runs (6) and total bases (91), 10th in runs scored (40), 13th in on-base percentage (.466), and 15th in walks (19). Shomberg is 45th in the NCAA Division III in RBI per game (1.21) and 85th in batting average, and he set personal career-highs in several statistical categories, including runs scored, doubles, home runs, RBI, and walks.
The Division III Mideast Region consists of 60 baseball programs from Indiana, Kentucky, Michigan, New York, Ohio, Pennsylvania, and West Virginia. The 2018 Division III All-Mideast Region Team represents the top 50 vote-getters among all nominated student-athletes. The teams are voted on by members of the ABCA, and the process is led by the ABCA's NCAA Division III All-America Committee.
Penn State Altoona baseball finished its 2018 season with a 17-21 overall record that included a 10-8 mark in the AMCC. The Lions earned their second consecutive berth into the AMCC Tournament and made a run into the conference's final four for the first time since the 2011 season.