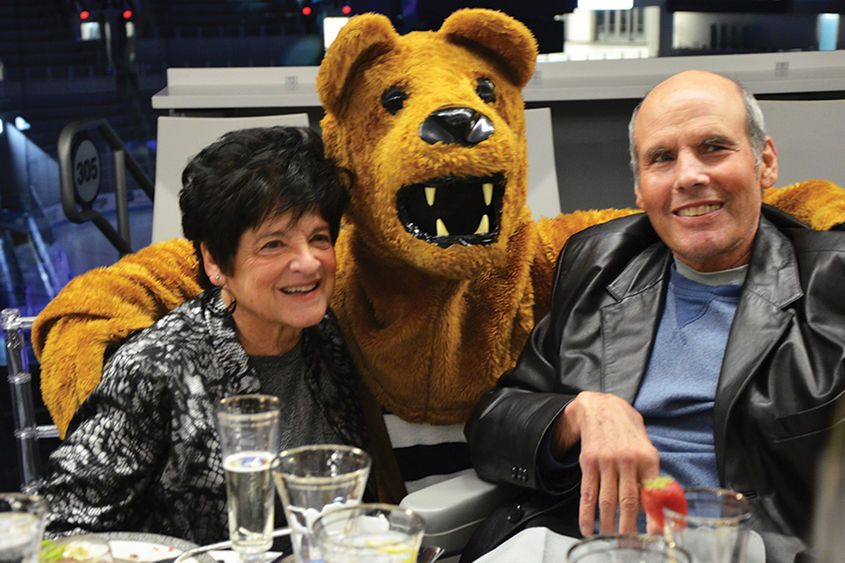 Rosalind E. "Roz" Sky, of Altoona, will receive the Penn State Alumni Association's Honorary Alumni Award at University Park on June 1 for her lifelong commitment to her community as a volunteer and philanthropist for numerous meaningful organizations, including Big Brothers Big Sisters of Blair County, the American Cancer Society, Agudath Achim Congregation, Greater Altoona Jewish Federation, Central Pennsylvania Community Foundation, Southern Alleghenies Museum of Art, Blair County Arts Foundation, and many others.
The Honorary Alumni Award was created by the Penn State Alumni Association in 1973 to recognize individuals who, though not graduates of Penn State, greatly enhanced the University through their commitment and service.
A graduate of the University of Pittsburgh, Roz married her husband, the late Phil Sky, a Penn State alumnus, in 1963. The couple moved to Altoona in 1971 where Phil joined his family's business, Sky Brothers Inc. Food Distributors. Roz enjoyed more than twenty years of experience in developing award-winning trade shows for her family's business, which was later sold to the Sara Lee Corporation in 1986.
In 2017, the Skys received the Central PA Community Foundation Philanthropy Award, which recognizes outstanding individuals who have generously given of their resources to help better lives and build stronger communities. In 2012, Roz received the WISE Women of Blair County Community Service Volunteer Award for her extensive community service, and in 2008, the American Cancer Society honored her with the Shirley A. Pechter Pinnacle Award for her notable achievements and accomplishments in furthering the mission of the cancer society in Blair County.
The couple established the Phillip B. and Rosalind E. Sky CRUT and named Penn State Altoona as the sole beneficiary. Initial funding led to the naming of the Port-Sky Café, and all remaining funds will be used to establish the Sky Family Scholarship. They also made a gift to name Port-Sky South in the Sheetz Center for Entrepreneurial Excellence. In 2012, they established the STAR Football Scholarship at University Park, honoring the 2012 Football Team. Last year, following the passing of her beloved husband, Roz made a gift to establish the Phillip B. Sky Entrepreneurial Scholarship at Penn State Altoona.
Roz has also volunteered in more unique roles, including acting as a patient in the college's Nursing Simulation Lab, working with the "Athletic Concessionaires" in the Adler Athletic Complex, and making appearances as the Nittany Lion mascot and official Penn State Altoona Alumni Society Winter Plunge mascot, Bear E. White. She currently serves on the Business Advisory Board for Enactus at Penn State Altoona. Previously, she served as vice-chair of Penn State Altoona's Development Council and as a campaign council member for the Grand Destiny Campaign and For the Future: The Campaign for Penn State Students and as co-chair of Penn State Altoona's 65th anniversary celebration.
The Skys have been recognized for their philanthropic support with membership in both the University's Mount Nittany Society and the Ivy Circle category of Penn State Altoona's Ivyside Society, the highest level of recognition. Roz considers her greatest achievement to be her family— two children, Izzy Sky, and wife, Dana; Tobi Sky Rispoli, and husband, Dave; and four grandchildren, Sam and Mandy Sky and Tyler and Casey Rispoli.