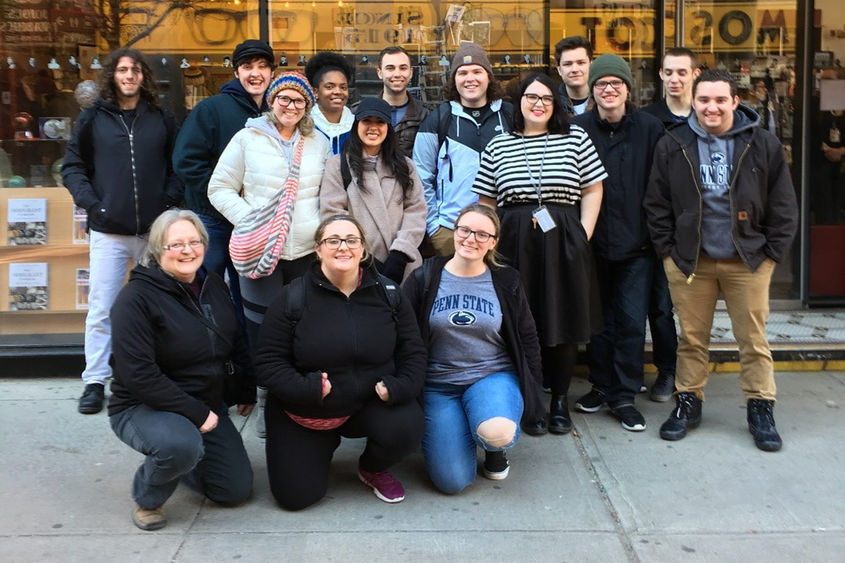 History, Latin, Arabic, French, and German students traveled to New York City in mid-March for a day of exploring the arts, history, and culture of their respective fields. "Visiting important museum collections and sites gives students the opportunity not only to experience aspects of the worlds, past and present, they have been studying, but also to connect them to some of the larger, and often very current and/or personal, conversations trying to make sense of the objects, places, and narratives explored," states Jutta Gsoels-Lorensen, associate professor of German, English, and comparative literature.
History and German students started their day with a visit to the Lower East Side Tenement Museum, an urban archeology project devoted to unearthing the histories of late 19th and early 20th century immigrants in lower Manhattan. On a tour through a former tenement building on Orchard Street, students heard about the lives of the German-Jewish Gumpertz family and the Sicilian Baldizzi family in the context of their times.
John Eicher, assistant professor of history, took his students to the Museum of Chinese in America and on a food tour of Chinatown where they sampled five tasty dishes from various regions of China. Students learned about the neighborhood and how its food culture has changed over time, adapting to an American setting.
Gsoels-Lorensen and her German students visited the Neue Galerie, a museum of German and Austrian art from the early 20th century. Students saw the famous portrait of Adele Bloch-Bauer by Gustav Klimt after studying the subject of art restitution in class. They also explored the current exhibition "Before the Fall," which focuses on German and Austrian artists from the1930s and their response to the tumultuous times in which they lived and worked. The day ended with an authentic Austrian meal in Werkstatt, a small Austrian restaurant in Brooklyn.
Sam Findley, assistant teaching professor of classics and ancient Mediterranean studies, took his Latin students to the Metropolitan Museum of Art to tour the enormous and varied riches of the Classical collection. Students did contemplative research of chosen pieces of art to later present to their classmates. The tour was followed by a meal at a Mediterranean restaurant.
French and Arabic students, and Imene Belhassen, assistant professor of Arabic and French, visited the Metropolitan Museum of Art to tour the collections of Islamic Art and European Art and Decor. They then went to a Turkish restaurant to taste some Mediterranean and Middle Eastern dishes. They finished their day with a visit to Times Square, where they experienced, firsthand, the joy of street cultural events.
Gsoels-Lorensen explains, "It is one thing to study immigration in class, but quite another to walk through the original tenement housing for a newly arrived family stepping off boat in New York City one hundred years ago. At the end of our tour through the Lower East Side Tenement Museum, one student remarked that he had always been interested in his family's immigration history, but was never quite able to picture their lives. Now that he had walked through the cramped apartments, he could envision the spaces in which these stories were unfolding. These vital connections are what academic field trips are all about."