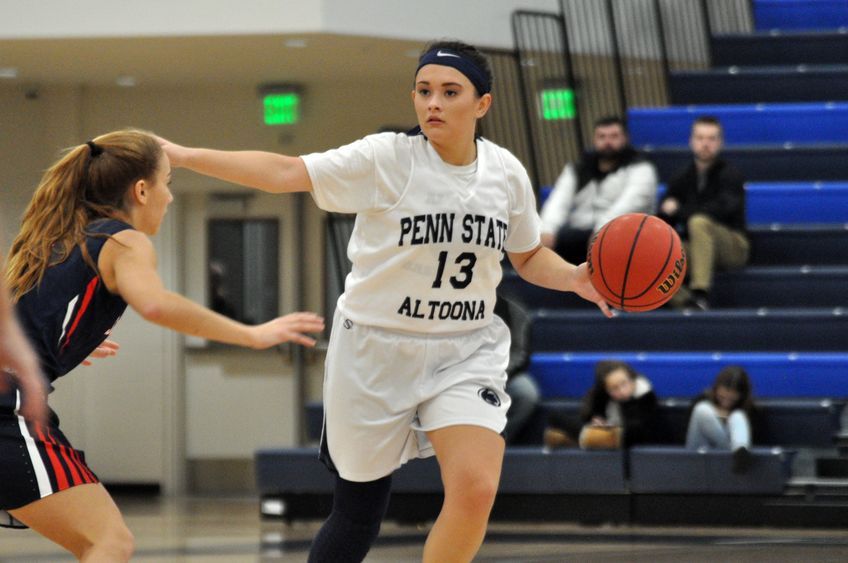 Men's Basketball
La Roche College 87, Penn State Altoona 59
Penn State Altoona 69, Mount Aloysius College 56
Penn State Behrend 67, Penn State Altoona 66
Penn State Altoona 95, Pitt-Greensburg 84
Through 16 games this season, Lions senior guard/forward Ishimeal Nance (Muscle Shoals, Alabama/Muscle Shoals) continues to be the Allegheny Mountain Collegiate Conference's leading scorer. Nance averages a league-best 19.3 points per game.
Men's Swimming
Penn State Altoona 92, Gallaudet University 88
Sophomore Tanner Yaw (Palmyra, Pennsylvania/Palmyra) and freshman Andrew Lesnett (Middletown, New York/Minisink Valley) each recorded one individual first place and one relay first place in the Lions' win at Gallaudet on Friday, Jan. 12. Yaw won the 50 Yard Freestyle in 23.50 and was part of the first place 200 Yard Medley Relay team that posted a combined time of 1:52.04. Lesnett took first in the 100 Yard Freestyle, clocking in at 53.77, and he swam a leg of the first place 200 Yard Freestyle Relay squad that had a total time of 1:39.84.
Women's Basketball
La Roche College 87, Penn State Altoona 72
Mount Aloysius College 82, Penn State Altoona 73
Penn State Behrend 81, Penn State Altoona 66
Penn State Altoona 84, Pitt-Greensburg 56
Sophomore guard Finnley Christine (Tyrone, Pennsylvania/Tyrone) was named the AMCC Player of the Week on Monday, Jan. 15, and the next day, she took Division III South Region Player of the Week honors from the Eastern College Athletic Conference. In games against Mount Aloysius and Penn State Behrend the previous week, Christine averaged 27.5 points per game, 11.0 rebounds per game, 3.5 steals per game, and 2.5 assists per game.
Women's Swimming
Gallaudet University 110, Penn State Altoona 70
Freshman Danielle Bye (Hockessin, Delaware/Cab Calloway School of the Arts) was selected the AMCC's Women's Swimmer of the Week on Monday, Jan. 15 for her performance the previous Friday at Gallaudet. Bye had a big night during that meet, recording two individual first places while also being part of a relay team that came in first. In the 200 Yard Freestyle Relay, Bye prevailed with a time of 2:21.87. She later won the 100 Yard Butterfly in 1:06.89. In the 200 Yard Freestyle Relay, Bye combined with her teammates to come in first place with a total time of 2:04.18.