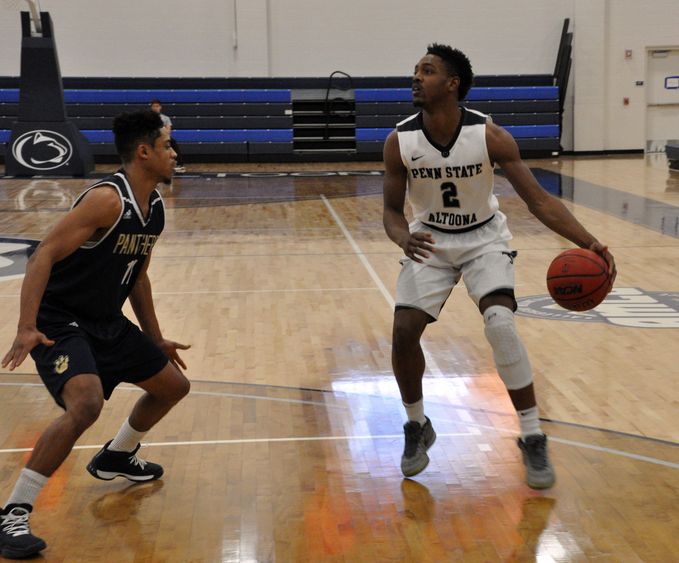 Men's Basketball
Penn State Altoona 97, Medaille College 81
Shenandoah University 97, Penn State Altoona 85
Penn State Altoona 81, New York University 77
Penn State Altoona 97, Pitt-Bradford 86
In the Lions' last four games, senior guard/forward Ishimeal Nance (Muscle Shoals, AL/Muscle Shoals) is averaging 22.0 points per game, 8.8 rebounds per game, 3.3 assists per game, and 2.3 steals per game while shooting 55.2 percent from the field. He is currently the Allegheny Mountain Collegiate Conference's leading scorer, putting up 19.3 points per game this season.
Men's Swimming
Wilkes University 110, Penn State Altoona 70
Sophomore Tanner Yaw (Palmyra, PA/Palmyra) posted one individual first place and was part of one relay event first place in his team's loss at Wilkes on Dec. 8. Yaw won the 200 Yard IM with a time of 2:15.43, and he was part of the 400 Yard Medley Relay squad that placed first with a combined time of 4:01.57.
Women's Basketball
Medaille College 86, Penn State Altoona 74
Penn State Altoona 78, Shenandoah University 64
Penn State Altoona 77, Pitt-Bradford 73
Sophomore guard Finnley Christine (Tyrone, PA/Tyrone) is averaging a team-best 21.0 points per game over the Lady Lions' past three contests. During that span, Christine has also posted 6.0 rebounds per game, 2.7 assists per game, and 1.7 steals per game.
Women's Swimming
Penn State Altoona 88, Wilkes University 85
Sophomore Emily Booz (Berwyn, PA/Conestoga) had two individual first place finishes and one relay first place in the Lady Lions' win at Wilkes on Dec. 8. In the 200 Yard Freestyle, Booz came in first place with a time of 2:11.10. Later, she prevailed in the 100 Yard Backstroke, clocking in at 1:08.21 to finish atop the standings. In the 400 Yard Medley Relay, Booz combined with her teammates to post a time of 4:41.34 to come in first place.