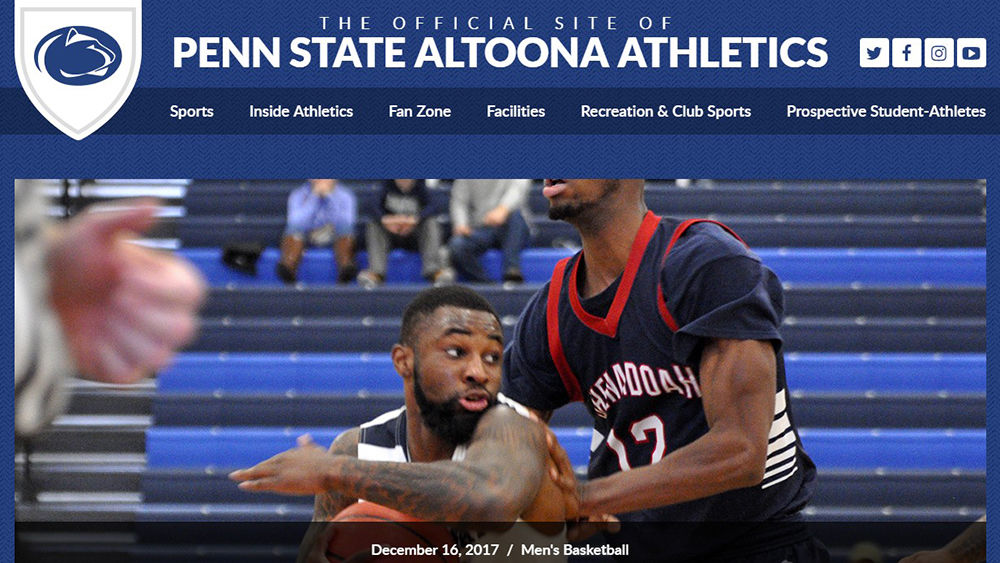 ALTOONA, Pa. – Penn State Altoona Athletics has announced that it is launching a brand new website to act as the central online presence for its varsity sports program.
Penn State Altoona Athletics has partnered with PrestoSports, a Rockville, MD-based company specializing in college sports websites, to create www.psaltoonalions.com, the new official internet home of Lions and Lady Lions varsity sports.
"This addition to our Athletics program has been a long time coming. I am happy that we can now offer this resource to our student-athletes, their families, and our fans," said Penn State Altoona Director of Athletics Brent Baird. "I am so proud of Director of Athletics Communication Conner Gilbert for his outstanding efforts to make this site come to reality."
The new website offers the same content as Penn State Altoona's previous Athletics site, including individual homepages for each of the school's 14 NCAA Division III varsity teams that feature releases, game recaps, rosters, photos, video, statistics, records, and schedules. In addition to those, the new website also allows for many new features, including a more user-friendly navigation of the site, a sport-by-sport e-mail list that lets fans sign up to receive news about their favorite teams, and improved prospective student-athlete forms to aid in the recruitment of new varsity athletes.
"I am extremely excited to finally go live with our new Athletics website. I'd like to thank Brent and the entire Athletics Department for their support with this project, PrestoSports for proving to be an excellent partner in this new endeavor, and [Interim Director of Strategic Communications and Marketing/Penn State Altoona Webmaster] Jonathan O'Harrow for his assistance over the years with our previous website," said Gilbert. "Division III sports is all about the primacy of the student-athlete, and our new website will greatly enhance our efforts to that end, from a Communication standpoint. Additionally, the new site is much more user-friendly, whether you're viewing it on a desktop computer, a tablet, or your phone. I think that student-athletes, their families, and fans alike will find our new site to be much more visually appealing, as well."
In addition to the new features and improvements that many people will see, there are also quite a few "behind the scenes" aspects that that will make Penn State Altoona's Athletics Communication efforts more efficient.
"From a sports information perspective, the new website will greatly simplify the process of sharing stats, results, recaps, and more with the public and the media, as well as with other college athletics websites and the NCAA statistical database," said Gilbert. "PrestoSports is no stranger to college athletics – particularly at the Division III level, where it has designed hundreds of websites for schools and conferences nationwide – so it tailors its offerings to programs just like ours at Penn State Altoona. In the coming months, I look forward to populating the new website with additional content, as well as new features that will continue to enhance our web presence."