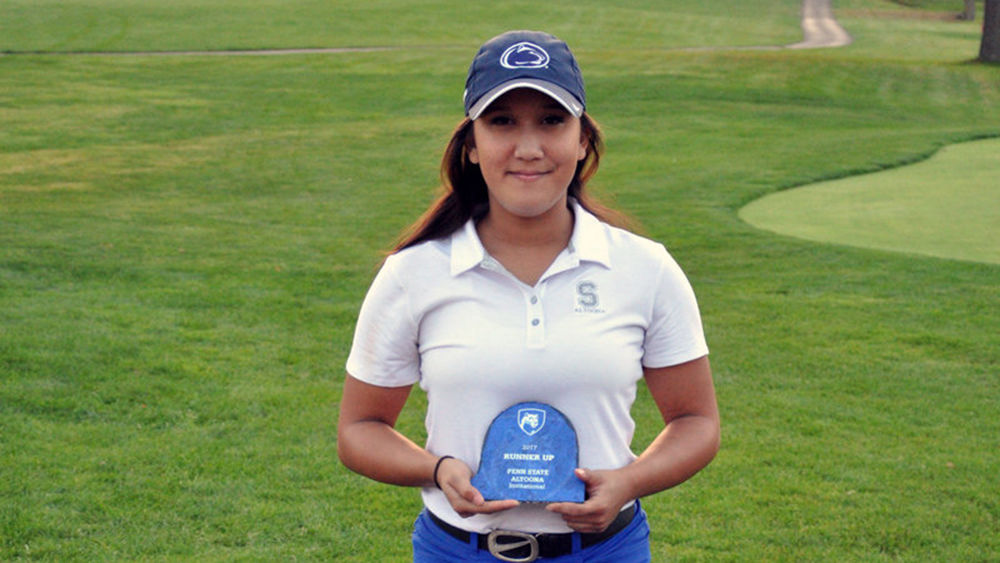 Men's Golf
3rd Place in the Penn State Altoona Invitational
4th Place in the Mount Aloysius College Invitational
5th Place in the La Roche College Invitational
In his first three collegiate rounds of golf, freshman Payton Guelich (Sandy Ridge, Pennsylvania/Philipsburg-Osceola) averaged a 77.6. He led the Lions in the La Roche Invitational on Tuesday, Sept. 19, shooting a 79 to tie for ninth place individually out of 61 golfers.
Men's Soccer
Keystone College 2, Penn State Altoona 0
Saint Vincent College 3, Penn State Altoona 1
Sophomore goalkeeper Tanner Yaw (Palmyra, Pennsylvania/Palmyra) made 13 saves in two games for the Lions last week.
Women's Golf
2nd Place in the Penn State Altoona Invitational
7th Place in the Mount Aloysius College Invitational
Penn State Altoona sophomore women's individual golfer Claudia Ochoa (Fairfax, Virginia/Robinson Secondary) was the runner-up in the Saturday, Sept. 16 PSA Invitational. Ochoa shot a 94 to secure second place out of 10 women's golfers at the event.
Women's Soccer
Lycoming College 3, Penn State Altoona 2
Penn College 4, Penn State Altoona 2
Penn State Altoona 2, Bethany College 1
Lady Lions senior forward Shoshana Mahoney (Sweet Valley, Pennsylvania/Lake-Lehman) continued her stellar season, scoring four goals in three games for her team last week. She put 11 shots on goal during that span and attempted 19 total shots.
Women's Tennis
Penn State Altoona 6, Penn State Behrend 3
Juniata College 6, Penn State Altoona 3
Clarion University 9, Penn State Altoona 0
Penn State Altoona women's tennis scored a big victory over Allegheny Mountain Collegiate Conference opponent Penn State Behrend on Friday, Sept. 15. It was the Lady Lions' first win over Behrend in women's tennis since 2002.
Women's Volleyball
Penn State Harrisburg 3, Penn State Altoona 0
Freshman setter Lauren Moran (Johnstown, Pennsylvania/Westmont Hilltop) ranks third in the AMCC in assists per set, averaging 5.46.