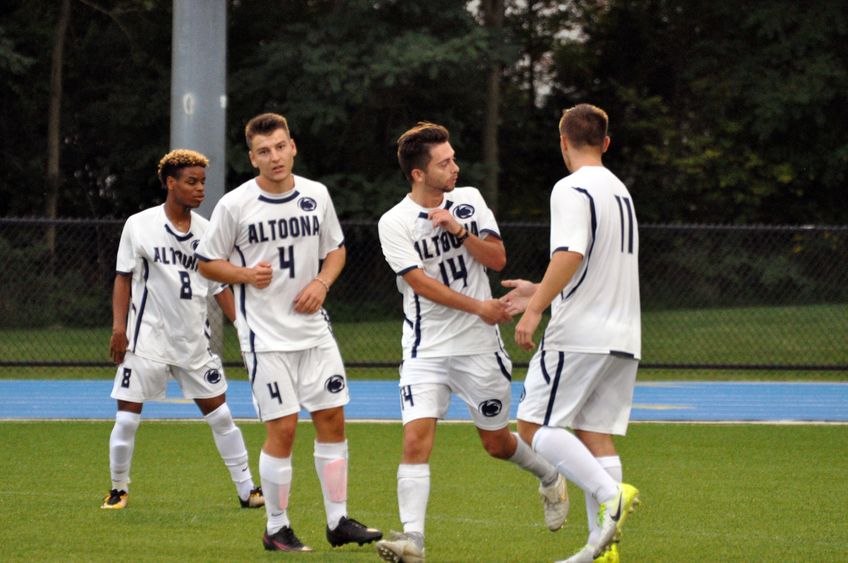 Men's Golf
10th Place in the Allegheny College Guy and Jeanne Kuhn Memorial Invitational
In the Allegheny Invitational on Sept.10-11, freshman Luke Hoffnagle (Spring Grove, Pennsylvania/Spring Grove) shot 73 on day one and 78 on day two to tie for 12th place individually out of 99 golfers.
Men's Soccer
Penn State Altoona 2, Shenandoah University 0
Frostburg State University 3, Penn State Altoona 2
Senior midfielder Seth Murrelle (Sayre, Pennsylvania/Sayre) scored a goal in each of Penn State Altoona's games last week, raising his team-leading goal total to four this season.
Women's Soccer
Chatham University 4, Penn State Altoona 1
Senior forward Shoshana Mahoney (Sweet Valley, Pennsylvania/Lake-Lehman) scored her team-leading third goal of the season in the Lady Lions' loss to Chatham University on Tuesday, Sept.12.
Women's Tennis
Penn State Altoona 7, D'Youville College 2
Medaille College 6, Penn State Altoona 3
Sophomore Brayley Lewis (Roaring Spring, Pennsylvania/Bishop Guilfoyle) went 2-0 in No. 2 singles and 2-0 in No. 2 doubles against Allegheny Mountain Collegiate Conference opponents D'Youville and Medaille.
Women's Volleyball
York College 3, Penn State Altoona 1
Franklin & Marshall College 3, Penn State Altoona 0
Lebanon Valley College 3, Penn State Altoona 0
Frostburg State University 3, Penn State Altoona 0